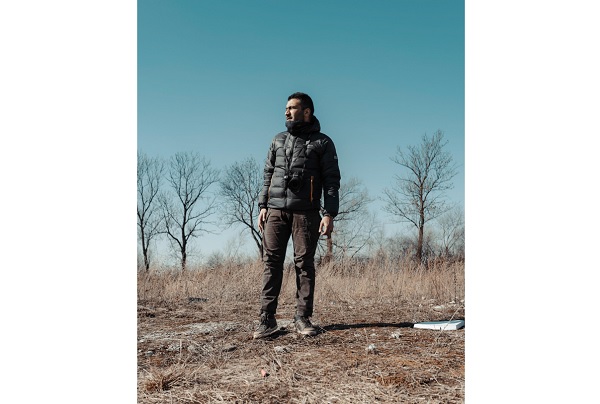 Ali Sahib during his trip to Ukraine in March 2022; Credit: Christophe Mendes
On Thursday 22 September 2022, Chronicle.lu will mark its 10th anniversary with a social community event organised in the framework of the 13th British & Irish Film Festival Luxembourg (BIFFL) and in partnership with Kachen and LUkraine asbl.
This anniversary celebration will form part of the larger "Solidarity with Refugees" event at this year's BIFFL and features the screening of two documentary short films with a focus on refugees: "From Iraq to Ukraine: Every Picture Tells a Story" by Ali Sahib, a photographer and director who arrived in Luxembourg as a refugee from Iraq in 2015 and who travelled to the Poland-Ukraine border and to Lviv in Ukraine in March 2022 to document the war; "Taste of Home" by the UN Refugee Agency (UNHCR) Ireland which tells the story of various cooks from refugee backgrounds having found safety in Ireland.
Ahead of the event on Thursday evening, which marks the world premiere of "From Iraq to Ukraine", Ali Sahib spoke to Chronicle.lu about his inspiration for the documentary: "First of all, it's a human disaster, when you see many people overnight they became homeless in a state of war from which only women, children and old people can find other places and survive. The second thing is that the conditions of war are not new to me, because I went through the same conditions in the past".
He went on to describe the documentary as poetic above all: "My job was to convey even a simple picture of what is happening there, including feelings of the fear, sadness, pain and separation of loved ones".
Regarding the challenges of creating this documentary, Ali noted that travelling to Ukraine had brought back memories of his own refugee journey. "The most difficult thing was to challenge myself in the face of a reflection of what I experienced years ago, as if the image I left in Iraq is being repeated again", he said. "The second challenge is trying to convey a thumbnail of what is happening in Ukraine in just one week at only one border crossing".
He added that the process of creating the documentary had not challenging in itself: "It was not easy at all. The [film] was in parts: the first part is my trip to the Ukrainian border, which was in the month of March 2022; the second stage is the creation of the documentary film and its implementation on the ground, which began in May 2022".
His advice for others wishing to create a documentary was to "only tell the truth in all honesty and integrity".
As for what he hoped the documentary would achieve, Ali stated: "I hope everyone who watches the film understands the issue of war victims. They are not only fighters, they are children, women and the elderly who will live their lives away from everything that was theirs in the past". He continued: "I hope everyone understands that there are generations that will grow up without their families. They need moral help before financial help".
Ali shared that this is just the beginning of his filmmaking journey. "My first experience with this documentary was exciting", he said. "And I faced a lot of problems that gave me a simple experience to create a second documentary on other topics that carry a meaningful message".
Ali will be available for a Q&A session with the audience after the screenings on Thursday.
Tickets for the BIFFL Solidarity with Refugees event, which is taking place at 19:00 on Thursday at the Cinémathèque in Luxembourg-Ville, are available from luxembourg-ticket.lu; some tickets may also be available at the door but this is not guaranteed.