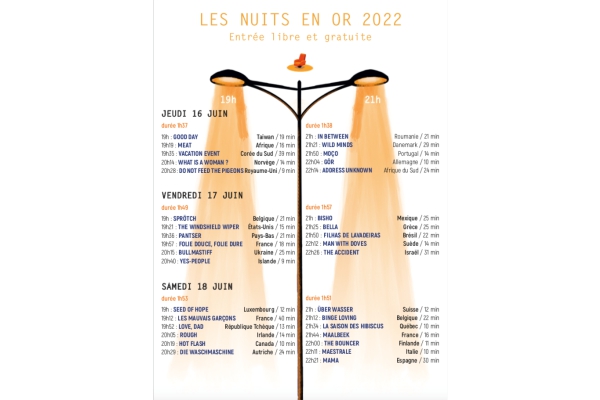 The Académie des César and D'Filmakademie has announced the 2022 edition of "Nuits en Or" taking place at the Cinémathèque de la Ville de Luxembourg from Thursday 16 to Saturday 18 June 2022, including the twelve-minute animated creation from Luxembourg, "Seed of Hope", directed by Claude Kongs.
The selected films are awarded by various Film Academies around the world, like César, Oscar, Bafta, Goya and Magritte, amongst others.
The short films include animation, documentary and fiction.
Entrance is free for the event.
Screenings
Thursday 16 June 2022, 19:00 onwards
Good Day (Taiwan 2021; 19 mins; Director: Zhang Zhi-teng)
Meat (Uganda 2022; 16 mins; Director: Asher Rosen
Vacation Event (South Korea 2021; 39 mins; Director: Choi Min Young)
What is a Woman? (Norway 2020; 14 mins; Director: Marin Håskjold)
Do Not Feed the Pigeons (UK 2021; 9 mins; Director: Antonin Niclass)
In Between (Romania 2020; 21 mins Director: Ana Pasti)
Wild Minds (Denmark 2021; 29 mins; Director: Hannah Elbke)
Moço (Portugal 2020; 14 mins; Director: Bernardo Lopes)
Gör (Germany 2021; 10 mins; Director: Anna Roller)
Address Unknown (South Africa 2020; 24 mins; Director: Nadine Cloete)
Friday 17 June 2022, 19:00 onwards
Sprötch (Belgium 2020; 21 mins; Director: Xavier Seron)
The Windshield Wiper (USA 2021; 15 mins; De: Alberto Mielgo)
Pantser (Netherlands 2021; 21 mins; Director: Jan Verdijk)
Folie douce, folie dure (France 2020; 18 mins; Director: Marine Laclotte)
Bullmastiff (Ukraine 2020; 25 mins; Director: Anastasiya Bukovska)
Yes-People (Iceland 2020; 9 mins; Director: Gísli Darri Halldórsson)
Bisho (Mexico 2020; 25 mins; Director: Pablo Giles)
Bella (Greece 2020; 25 mins; Director: Thelyia Petraki)
Filhas de lavadeiras (Brazil 2019; 22 mins Director: Edileuza Penha de Souza)
Man with Doves (Sweden 2021; 14 mins; Director: Lina Maria Mannheimer)
The Accident (Israel 2020; 31 mins; Director: Omri Dekel-Kadosh)
Saturday 18 June 2022, 19:00 onwards
Seed of Hope (Luxembourg 2019; 12 mins; Director: Claude Kongs)
Les Mauvais garçons (France 2020; 40 mins; Director: Elie Girard)
Love, Dad (Czech Republic 2021; 13 mins; Director: Diana Cam Van Nguyen)
Rough (Ireland 2020; 14 mins; Director: Adam Patterson)
Hot Flash (Canada 2019; 10 mins; Director: Thea Hollatz)
Die Waschmaschine (Austria 2020; 24 mins; Director: Dominik Hartl)
Über Wasser (

Switzerland

2021; 12 mins; Director: Jela Hasler)
Binge Loving (Belgium 2021; 22 mins; Director: Thomas Deknop)
La Saison des hibiscus (Canada 2020; 10 mins; Director: Éléonore Goldberg)
Maalbeek (France 2020; 16 mins; Director: Ismaël Joffroy Chandoutis)
The Bouncer (Finland 2020; 11 mins; Director: Aleksi Salmenperä)
Maestrale (Italy 2021; 10 mins; Director: Nico Bonomolo)
Mama (Spain 2020; 30 mins; Director: Pablo de la Chica)