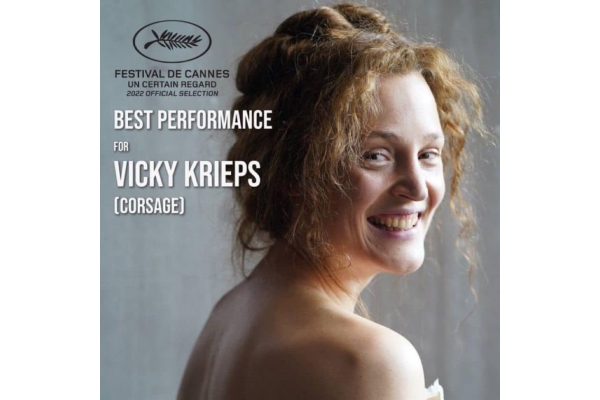 Credit: (c) Samsa Films
With a record of six official selections for this 75th edition of the Cannes Film Festival, Luxembourg co-productions won three prizes in the "Un Certain Regard" selection, announed Film Fund Luxembourg.
Before the Palme d'or 2022 is awarded at the Cannes Film Festival on Saturday evening, the jury of the Un Certain Regard selection, the first parallel section of the Festival which highlights ameteur and discovery cinema, rewarded two Luxembourg co-productions films: "Corsage" by Marie Kreutzer (Samsa Film) and "Harka" by Lotfy Nathan (Tarantula Luxembourg).
Luxembourg actress Vicky Krieps, who plays the famous Empress of Austria in Corsage, a rebellious and feminist Sissi, won the prize for best performance alongside French actor Adam Bessa who plays Ali in Harka, a young Tunisian who leads a precarious existence selling gasoline on the black market and who still dreams of a better life.
A third prize was also awarded on the Croisette for Luxembourg and it was again for the film Corsage which received the Prize for Best Sound Creation, rewarding the Luxembourg sound production teams: Carlo Thoss / Alain Goniva and post-production (Philophon Studios, Philippe Kohn / Michel Schillings) with a.o. Lieven Verbraeken, Loïc Collignon, Nicolas Leroy, Angelo Dos Santos, Philippe Deschamps, Vincent Maloumian and Ken Nnganyadi.
This award for Best Sound Creation was created by the association La Semaine du Son aims to reward sound excellence in a film "because it sublimates the artistic, semantic and narrative perception of the viewer".
The six films in selection at the 75th Cannes Film Festival were:
Official selection "Un certain regard"
Corsage co-produced by Bernard Michaux and directed by Marie Kreutzer (with Vicky Krieps in the role of Sissi and Jeanne Werner in the role of Ida Ferenczy, a Hungarian nobleman in the service of Empress Elisabeth).
Plus que jamais (More than ever) co-produced by Jani Thiltges (Samsa Film) and directed by Emily Atef (with Vicky Krieps in the lead role)
Harka co-produced by Donato Rotunno (Tarantula Luxembourg) and directed by Lotfy Nathan.
Official selection "event screening" - film in the running for the Caméra d'Or (best first film)
Le petit Nicolas – Qu'est-ce qu'on attend pour être heureux? (Little Nicolas – What are we waiting for to be happy?) produced by Lilian Eche and Christel Henon (Bidibul Productions) and directed by Amandine Fredon and Benjamin Massoubre based on the work of René Goscinny and Jean-Jacques Sempé.
Official selection "midnight session"
Rebel, co-produced by Jesus Gonzalez (Calach Films) and directed by Adil El Arbi and Bilall Fallah with Luxembourg actors Tommy Schlesser and Nassim Rachi.
"Directors' Fortnight" - shortlisted for the Caméra d'Or (best first film)
Pamfir, co-produced by Adolf El Assal (Wady Films) and directed by Dmytro Sukholytkyy-Sobchuk.