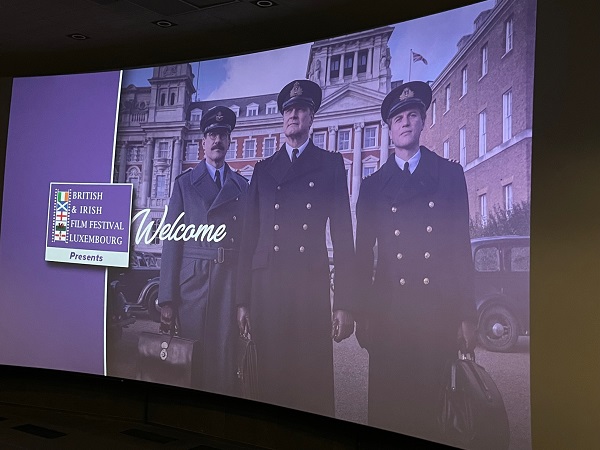 On Friday 22 April 2022, Ciné Utopia in Luxembourg-Limpertsberg hosted the inaugural event in the new "BIFFL Presents..." series.
The British & Irish Film Festival Luxembourg (BIFFL) has been running since 2010 and will be holding its 13th annual festival from 16-24 September 2022 (see www.bifilmseason.lu).
"BIFFL Presents..." is a new collaboration between Kinepolis Luxembourg and the BIFFL. David Carvalho, responsible for Booking & Programming at Kinepolis, welcomed the 150+ attendance and explained the new collaboration, confirming that they aim to screen Avant-Premiers of British / Irish films at Ciné Utopia on a quarterly basis.
Geoff Thompson, BIFFL organiser, confirmed the dates of the 2022 festival and highlighted some other British & Irish films being screened in Luxembourg:
- The Duke, currently being screened in Ciné Utopia, is based on a true story (he described it as "excellent")
- The Northman, currently being screened in Kinepolis-Kirchberg, is a Viking action film with landscape scenes filmed in Northern Ireland and other scenes in Belfast's Harbour Studios (he did warn that it is violent)
- Downton Abbey 2, which will have its Avant-Premier in both Ciné Utopia and Kinepolis-Kirchberg next Friday 29 April (this announcement received a big cheer by the audience)
On the first "BIFFL Presents..." screening, of the film "Operation Mincemeat", he confirmed that the director, John Madden, had also directed The Best Exotic Marigold Hotel, Captain Corelli's Mandolin and Mrs Brown, which many of the audience had already seen. The film is based on a true story told in the book by Ben McIntrye and features a fascinating tale of intrigue and deception in a WWII spy story. He confirmed that, although technically a US/UK co-production, it is essentially a British drama with the footprint of classic story-telling with some great British actors.
Following the film, the audience expressed it delight with the choice of the film and many were asking for details of the next "BIFFL Presents..." screening.