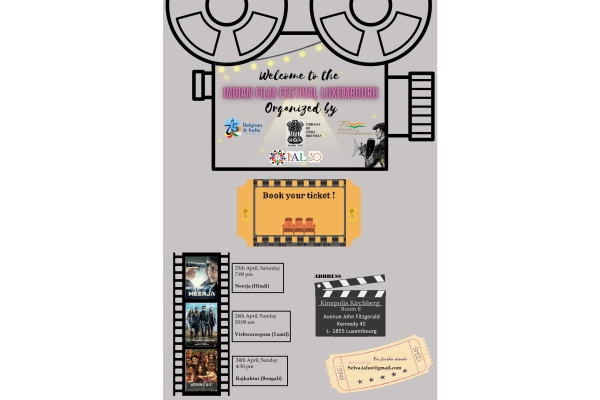 As part of the celebrations to commemorate 75 years of Indian independence, the Government of India and the Indian Embassy in Brussels is organising a one-off Indian Film Festival in Luxembourg this coming week-end, on Saturday 23 and Sunday 24 April 2022.
The Indian Association of Luxembourg (IAL), which is also currently celebrating its 30th anniversary, is partnering with the Embassy of India in organising this event.
Films are an intrinsic part of the Indian society and culture, and boasts a rich and diverse cinema in all the languages in India. To initiate a conversation around Indian cinema, the organisers are offering the screening of three films in three Indian languages - Hindi, Tamil and Bengali.
Entry is free-of-charge; however, tickets must be reserved in advance.
The single-screenings at Kinepolis Kirchberg, Room 6, are as following:
Saturday 23 April 2022, @19:00

Neerja (2016, biopic, in Hindi)
Synopsis: The story of courageous Neerja Bhanot, who sacrificed her life while protecting the lives of 359 passengers on Pan Am Flight 73 in 1986 when it was hijacked by a terrorist organisation.

Sunday 24 April 2022, @10:00

Vishwaroopam (2013, thriller, in Tamil)
Synopsis: When a classical dancer's suspecting wife sets an investigator behind him, a series of violent events are triggered, revealing his real identity and connection to a darker world.

Sunday 24 April 2022, @16:30

Rajkahini (2015, historical drama, in Bengali)
Synopsis: In August 1947, the British passed a bill regarding the partition of Bengal. Delving into the grim history of the partition, Mukherjee's movie Rajkahini is woven around a border between the two nations that runs through a brothel housing eleven women.
Ticket reservations for can be made online via https://ial.eventive.org/schedule