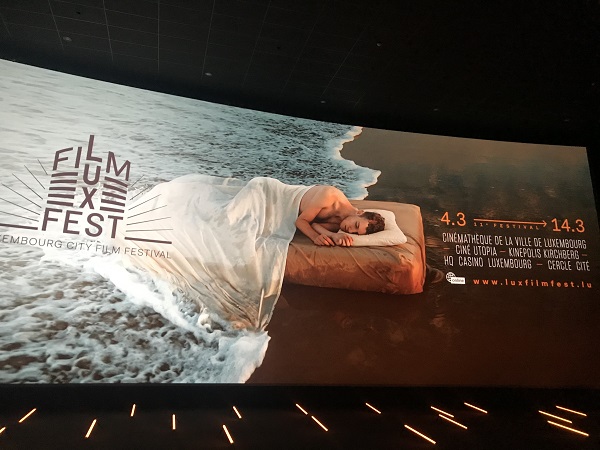 The 11th edition of the Luxembourg City Film Festival opened its doors on Thursday evening to a full screening room #10 at Kinepolis-Kirchberg, albeit with the mandatory physical distancing in place, meaning that each person/household has three empty seats to the left, right, in front of and behind them.
The 11-day festival runs until Sunday 14 March with all film being screened in-house at cinemas, primarily Kinepolis-Kirchber, the Cinémathèque and Ciné Utopia, as well as in other venues. In addition, most films are also being screened online.
The opening speeches were delivered by Georges Santer, President of the Luxembourg City Film Festival, San Tanson, Minister of Culture, Lydie Polfer, May of Luxembourg ville, Guy Daleiden, Director of Film Fund Luxembourg, Alexis Juncosa, Artistic Director at the Luxembourg City Film Festival, and Gladys Lazareff, CEO of the Luxembourg City Film Festival.
The juries were introduced, and so was the recipient of the festival's Outstanding Achievement Award, William Friedkin, director of classics such as The Exorcist, The French Connection, To Live and Die in L.A. and Rampage, who is also giving a masterclass during the festival.
Following the opening speeches, the audience was treated to a screening of Nomadland which just a few days previously had picked up two prodigious Golden Globe awards for Best Director - Motion Picture (Chloé Zhao) and Best Motion Picture - Drama.
Also, yesterday, the organisers of the renowned Berlin Film Festival announced that the winner of the Golden Bear was Bad Luck Banging or Loony Porn, a co-production with Romania, Luxembourg, Croatia and the Czech Republic: this film is having its world premier during this festival too, on Wednesday 10 March at 19:00.
For full details, see https://www.luxfilmfest.lu/