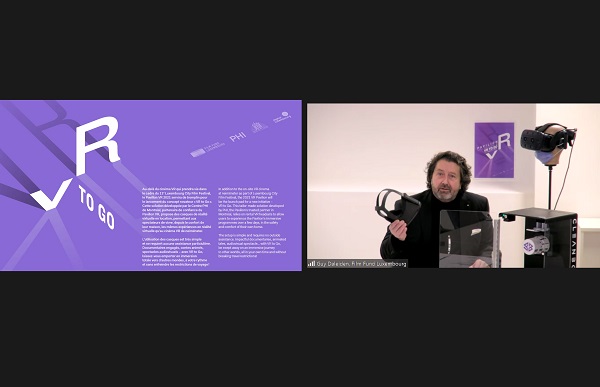 Guy Daleiden, Director of Film Fund Luxembourg;
During a virtual press conference on Friday morning, Guy Daleiden, Director of Film Fund Luxembourg, and Ainhoa ​​Achutegui, Director of neimënster, unveiled the programme for this year's Virtual Reality Pavilion, which will take place in hybrid mode from 4 to 14 March 2021.
For the fourth year in a row, Film Fund Luxembourg is organising, in collaboration with PHI Montreal and with the support of Digital Luxembourg, a pavilion dedicated to virtual reality (VR) as part of the 11th edition of the Luxembourg City Film Festival (LuxFilmFest).
Like the film festival itself, this year's VR Pavilion will take a hybrid form: the public will have the option of going to neimënster to discover the two programmes in person free of charge or renting a VR headset and discovering the thirteen selected films at home.
Ainhoa Achutegui, Director of neimënster, explained that the ongoing pandemic led to the organisers experimenting with different ideas. The COVID-19 health crisis resulted in the innovative concept "VR to Go", which was developed by PHI and is available in Montreal, Paris and, from 4 March, Luxembourg. The concept consists of the rental of VR headsets, allowing viewers to watch the pavilion's films from the comfort of their home. The headsets are programmed for easy use and can be rented for a fee of €20 (plus a €200 deposit). They will be cleaned and dried in an ultraviolet ray disinfection device after each use.
Whilst this new concept is expected to prove popular, especially given the current health context, Ainhoa Achutegui was also hopeful of a good turnout for the more traditional, in-person pavilion, which will take place in a VR cinema according to a strict sanitary protocol. She highlighted the "thirst for culture" which has become evident in the midst of the pandemic during which fewer cultural activities have been available. The neimënster director added that the organisers were "learning by doing" and were especially interesting in discovering how the public reacts to this hybrid format and ultimately adapting to public preferences.
Among this year's selection are 360° films, including three Luxembourgish co-productions: "Under the Skin" by João Inada (Tarantula Luxembourg), "Putain de facteur humain" by Karolina Markiewicz and Pascal Piron (Don Pedro Productions) and "Ayahuasca" by Jan Kounen (a_BAHN). "BattleScar", which won the prize for the best immersive experience at last year's LuxFilmFest, as well works such as "Gloomy Eyes" and "Vestige", which have attracted international recognition at various film festivals, are also on the programme.
Guy Daleiden, Director of Film Fund Luxembourg, explained that the organisers had been limited to films which required very little interaction due to the health context, hence the decision to focus on 360° films which can be shown through a simple VR headset (no need to plug it into a computer or another device). There are a total of eighteen headsets available, including six at neimënster and twelve which are reserved for VR to Go; depending on demand, more headsets can be allocated to one or the other option. Guy Daleiden added that the duration of the VR Pavilion is flexible and could extend beyond the LuxFilmFest. There is also the possibility of adding a third or fourth programme depending on public interest.
The film programmes remain the same for both the in-person and VR to Go concepts and both options are available to all.
The full programme and further information on the rental of VR headsets are available on bit.ly/3uwKH5f. Reservations for the rental of headsets (which should be collected in person from neimënster) will open on Monday 1 March 2021 on vrtogoluxembourg.eventbrite.co.uk.