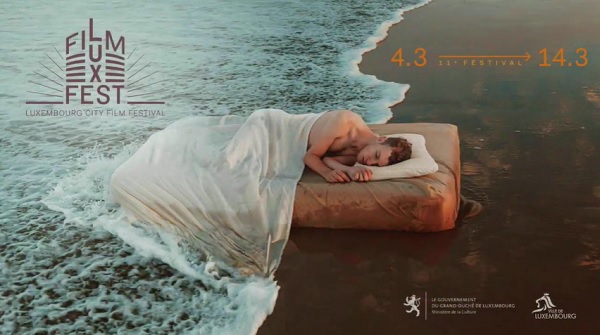 On Thursday 11 February 2021, the programme for the 11th annual Luxembourg City Film Festival was announced, with the festival taking place between 4 and 14 March 2021, in a hybrid format, i.e. both in cinemas and online.
The press conference, held at Kinepolis-Kirchberg, heard opening remarks from Georges Santer, President of the Luxembourg City Film Festival, Sam Tanson, Luxembourg's Minister of Culture, Lydie Polfer, Mayor of Luxembourg-ville, Christophe Eyssartier, Manager of Kinepolis in Luxembourg, Guy Daleiden, Director of Luxembourg Film Fund, and Paul Lesch, Director of the National Audiovisual Centre.
The festival is facing many challenges, not least the restrictions on numbers allowed into cinemas during the COVID-19 times, as well as others including difficulties in identifying new films for selection and so feww have been made within the past 12 months. While all films will be screened in cinemas, some (not all) will also be screened online.
The main programme was presented by Alexis Juncosa, artistic director at Luxembourg City Film Festival, who explained that films will be screened both in cinemas and online.
"Nomadland" by Chloé Zhao and starring Frances McDormand (USA & Germany, in EN) will open the festival, and "There is No Evil" by Mohammad Rasoulof (Germany, Iran & Czech Republic, in Farsi/German, st EN) will close the festival.
Some of the 14 films in the official selection, not in competition, include:
- "The United Satted vs Billie Holiday" by Lee Daniels (USA, in EN),
- "Bloody Nose, Empty Pockets" by Bill Ross IV, Turner Ross (USA, in EN),
- "Botox" by Andrey Konchalovsky (Iran & Canada, in Farsi, st EN),
- "Disappearance at Clifton Hill" by Albert Shin, (Canada, in EN)
- "Gagarine" by Fanny Liatard and Jeremy Trouilt, (France, in FR)
- "I care a lot" by J Blakeson and starring Rosamund Pike, (UK, in EN)
- "The Human Voice" by Beau Han Bridge, (Canada, in EN)
- "Last and First Men" by Johann Johannsson (Iceland, in EN),
- "Riders of Justice" by Anders Thomas Jensen (Danish, st EN),
- "Tove" by Zaida Bergroth (Finland, Sweden, st EN)
Other films of note include:
- "Long Story Short" by Josh Lawson (Australia, in EN),
- "Wendy" by Benh Zeithlin, (USA, in EN)
- "Gunda" by Victor Kossakovsky (Norway, US, no dialogue),
- "Nadia, Butterfly" by Pascal Plante (Canada, FR & EN, st EN)
- "The 8th" by Aideen Kane, Lucy Kennedy & Maeve O'Boyle (US, IE, in EN)
There will be a "Luxembourg Music Video Night" on 12 March at 18:30, in collaboration with Rocklab.
The Awards Ceremony will be hald on 9 March at 19:00 in conjunction with the Lost Weekends Screening.
The Made on / with Luxembourg programme includes:
- "Bad Luck Banging or Loony Porn" by Radu June (Romanian, st EN)
- "Hytte" by Jean-Louis Schuller (EN)
- "Ooops! The Adventure Continues" by Toby Genkel, Sean McCormack (Ireland, Luxembourg, in LU)
- "The Living Witness" by Karolina Markiewicz, Pascal Piron (LU, FR, EN, st EN)
- as well as a number of shorts.
Various juries were also confirmed including for Documentary (Europa Film Festivals) regarding the documentary strand which includes 6 films in competition, plus others includings the Press Jury for the Official Competition which comprises 8 films:
- "Air Conditioner" by (Angola, st EN/FR)
- "Aristocrats" by (Japan, st FR/EN)
- "Assandira" by (Italy, st FR/EN)
- "Becoming Mona" by (NL, Belgium, st FR, NL, EN)
- "Careless Crime" by (Iran, st FR/EN)
- "Quo Vadis, Aida?" by Jasmila Zbanic (Bosnia,..., st NL, FR, EN)
- "The Whaler Boy" by Philipp Yuryev (Russian, st FR, EN)
- "The Wolves" by Samuel Kishi Leopo (Mexico, st FR, EN)
An exhibition on Luxembourg film - by Paul Lesch, Yves Steichen and Chiara Lentz - at the Cercle Cité in Luxembourg-ville is being opened later today and will remain open until April, and the Abbaye de Neumunster in Luxembourg-Grund will host Virtual Reality events. The Casino Luxembourg Contemporary Art Forum will also host workshops, masterclasses and screenings.
A Lifetime Achievement Award will be given to William Friedkim whoc will also present a Masterclass. And there will be a hommage to both him and to Terry Gilliam - who will travel to Luxembourg if COVID-19 restrictions allow.
And Jeune Public strand - for audiences as young as 3 yeas old - will also be included, presented by Gladys Lazareff, Managing Director of the Luxembourg City Film Festival, including both screenings, workshops and other initiatives.
Practical Information:
- Film Ticket: €7 (reduced €5) for both cinemas and online individual screenings
- Festival Pass: €30 (for 5 films) - see www.luxfilmfest.lu
- Online Festival Pass: €30 for fiction & documentary films; €50 for films in and out of competition - see online.filmfest.lu (geo-blocked for Luxembourg)
- ticketing open from tomorrow, 12 February