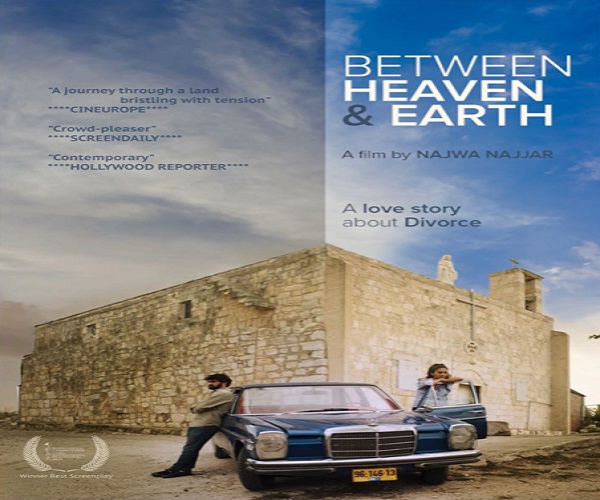 Between Heaven and Earth film poster;
Luxembourg-based film production company Paul Thiltges Distributions (PTD) has announced that its first Cinéworld (Film Fund Luxembourg) Coproduction "Between Heaven and Earth" will have its world market premiere at European Film Market (EFM) Berlinale 2020.
Written and directed by Najwa Najjar and produced by Hani E. Kort (Ustura Films / Palestine), in co-production with Paul Thiltges and Adrien Chef (PTD / Luxembourg) and Fahad Jabali and Eggert Ketilsson (Oktober Productions / Iceland), "Between Heaven and Earth" is a fictional film about love and divorce; it is loosely based on true political events.
The film stars Mouna Hawa, Firas Nassar, Faris Husari, Ebaa Monder, Buraq Nashashibi, Khaled Massou, Adeeb Safadi, Huda Iman, Mahmoud Shawahdeh, Amal Kais, Omar Jabali, Louise Heem, Izz Jabari, Hussein Nakleh, Elham Khleifi, Lamis Ammar, Louise Shoufany, Tareq Kopti and Sari Bisharat.
Synopsis
Salma, a Palestinian woman from Nazareth in her 30s, wants to divorce her husband, Tamer, also a 30-something man and the son of a famous intellectual revolutionary killed in Beirut. Salma and Tamer have been married for the past five years and living in the Palestinian Territory. The first time Tamer is ever given a three-day permit to cross the Israeli checkpoint is to file for divorce in the courts of Nazareth. At the courthouse, the pair are confronted with a staggering discovery about Tamer's father's past: a secret love affair in the 1950's sends Salma and Tamer spinning on an emotional road trip exploring the loss and betrayal of the past, and of themselves. With only 72 hours on hand, they must find the father's lover to get the needed documents before Tamer's permission expires and they must return to the West Bank.
As the story unfolds, the relationships expose a time when religion was not an issue and love could survive a destroyed landscape, mend broken hearts and tortured minds and forgive betrayals. A time in this war-torn country when love and hope was not so complicated and dividing lines did not exist.
The market premiere of "Between Heaven and Earth" will take place at the upcoming EFM Berlinale, scheduled for 20-27 February 2020 in Berlin, Germany.