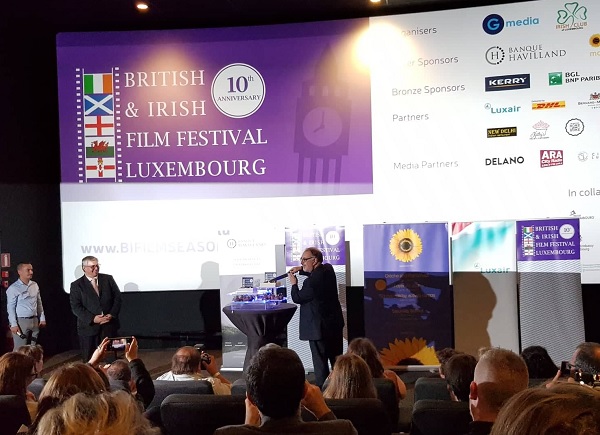 Festival organiser Geoff Thompson cutting the celebratory cake; Credit: Jazmin Campbell
On Friday evening, the 10th anniversary edition of the British & Irish Film Festival Luxembourg opened to a full house at Kinepolis-Kirchberg.
Before the opening screening, Ireland's Ambassador-designate to Luxembourg, Stephen Dawson, spoke about the booming Irish film industry and particularly the Irish love of storytelling. He also discussed his own experience seeing the filming of one of the festival's films, "Educating Rita", first-hand during his time as a student at Trinity College Dublin.
Festival organiser, Geoff Thompson, thanked the various sponsors and partners, as well as the British and Irish embassies and the Edinburgh International Film Festival (Scotland) and the Galway Film Fleadh (Ireland) for their support. He then proceeded to cut the 10th anniversary cake - audience members were each treated to a slice after the film.
This year's festival opened with a sold-out screening of the Irish supernatural comedy "Extra Ordinary", directed by Mike Ahern and Enda Loughman and starring Irish comedian Maeve Higgins, Irish actor Barry Ward and American actor Will Forte. The Luxembourg premiere coincided with the film's release in Irish and British cinemas on Friday 13 September 2019.
"Extra Ordinary" tells the story of an endearing and quirky driving instructor with an extraordinary talent: Rose Dooley (Maeve Higgins) can communicate with spirits. However, she is reluctant to use her talents since the last time resulted in the death of her father. That is until a charming widower, Martin (Barry Ward), contacts her to exorcise the spirit of his late wife. Whilst Rose initially refuses to help, she and Martin end up going on a hilarious and sometimes gruesome mission to save Martin's daughter from one-hit-wonder rock star Christian Winter's (Will Forte) plans to sacrifice a virgin in exchange for a return to his glory days...
"Extra Ordinary" got this special edition of the British & Irish Film Festival off to a successful start, with the room erupting with laughter from start to finish.
The opening screening was followed by celebratory cake and a reception.
Full details of the festival's programme are on www.bifilmseason.lu, with all ticketing on www.luxembourg-ticket.lu.