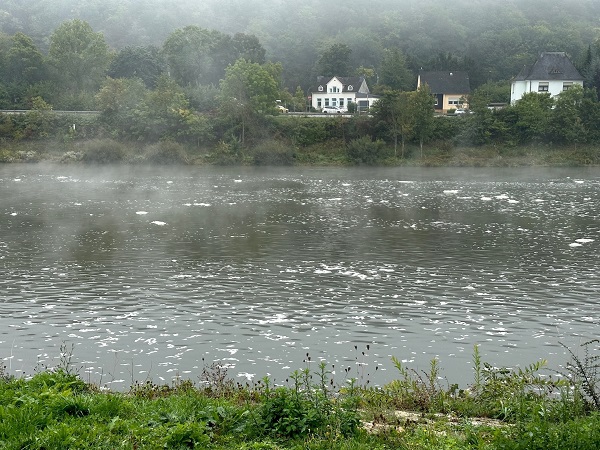 White foam in the Moselle river in Schengen; Credit: AGE
Luxembourg's Water Management Authority (Administration de la gestion de l'eau - AGE) has confirmed that it received reports of the presence of a large amount of white foam on the surface of the Moselle river on Friday 30 September 2022.
An AGE agent went to the site to take samples and try to locate the source of the white foam. This was particularly visible downstream of the locks of Schengen and Grevenmacher and it is believed at this stage of the investigation that the origin of the white foam is upstream of Schengen.
The Moselle-Saar international warning and alert plan set up by the International Commissions for the Protection of the Moselle and the Saar was triggered, requesting information from the French authorities.
The latter attributed the presence of the white foam to a process of natural degradation of plants. Voies navigables de France (VNF), the French navigation authority responsible for the management of most of France's inland waterways network and associated facilities, regulates the water level in different basins for about 30 km before the border. This causes green algae to rise to the surface and gives an effect of white foam heading towards Luxembourg; this effect has no proven risk, according to the AGE.