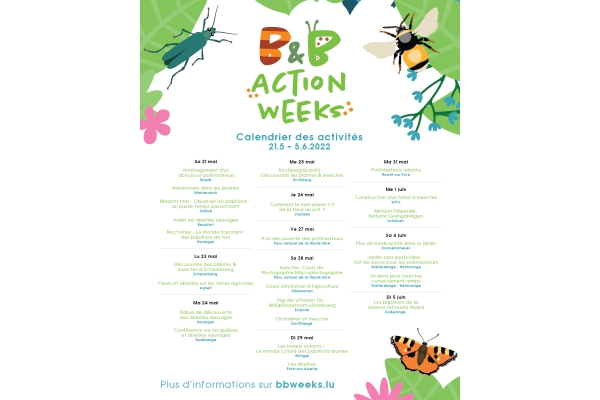 Credit: Ministry of the Environment, Climate and Sustainable Development
Luxembourg's Ministry of the Environment, Climate and Sustainable Development announced the first edition of the "B&B Action Weeks", taking place from Saturday 21 May to Sunday 5 June 2022.
During these days, a multitude of activities for the whole family will be offered across the Grand Duchy of Luxembourg to discover the fascinating world of pollinating insects and learn how to help them survive and thrive in our gardens or other green spaces.
The various activities offered during the two weeks is available on a specially dedicated website www.bbweeks.lu. The website also offers simple actions that everyone can take to provide lodgings, food resources and a healthy environment for bees, insects, butterflies and other pollinating companions.
The campaign is carried out within the framework of the National Action Plan for the Preservation of Pollinating Insects (www.planpollinateurs.lu) and in collaboration with the expert partners from Nature and Forests Administration, Beetogether, Ëmweltberodung Lëtzebuerg ASBL, National Museum of Natural History, natur&ëmwelt, Haute-Sûre Nature Park, Our Nature Park, Mullerthal Nature Park, SIAS and SICONA.