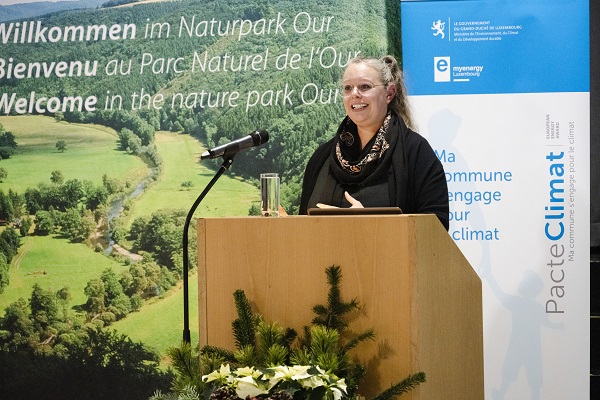 Carole Dieschbourg, Luxembourg's Minister of the Environment, Climate and Sustainable Development; Credit: Upper Sûre & Our nature parks
On 29 November 2021, the Upper Sûre and Our nature parks in Luxembourg celebrated the launch of the new Climate Pact 2.0 as part of a launch ceremony.
Nearly 80 guests attended the event, including Luxembourg's Minister of the Environment, Climate and Sustainable Development, Carole Dieschbourg, and the Minister of Energy and Spatial Planning, Claude Turmes. The event took place in strict compliance with current sanitary measures at the cultural centre in Hosingen, in northern Luxembourg.
The Climate Pact 2.0 was launched this year as a development of the Climate Pact 1.0, which was introduced in 2012 within the national framework. Through the successful implementation of several measures, intense regional collaboration and the commitment of Luxembourg's municipalities, the regions of northern Luxembourg are able to play a pioneering role at the European level in terms of climate protection.
Anita Lanners from the Upper Sûre nature park emphasised the potential of supply and disposal, which can be sustainably strengthened by the circular economy. She added that collaboration with the public and local businesses should also be stepped up within the framework of the Climate Pact 2.0.
Laurent Spithoven from the Our nature park gave an overview of a novelty in the internal structure of the park. He introduced the ECO (Energy - Climate - Our) team, which will be a regional contact point in future for all matters relating to climate protection.
The event also included interventions by Philippe Ernzer of Météo Boulaide, who provided insight into the dynamics of climate tipping points. As emissary of the generation that will feel the effects of climate change most intensely, the Youth for Climate movement has been able to make an urgent appeal to political representatives to listen to the science and act on it.
Finally, in the presence of Ministers Dieschbourg and Turmes, the representatives of the municipalities paved the way for 2030 by symbolically signing the Climate Pact for regional cooperation.