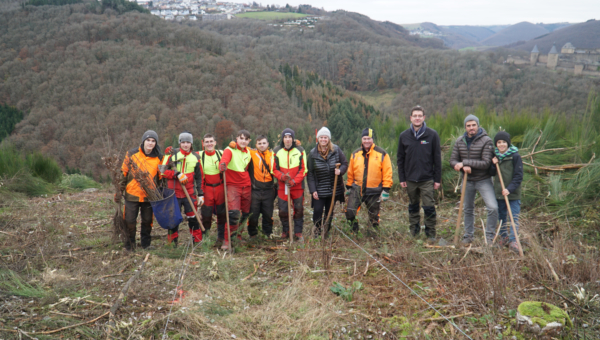 Carole Dieschbourg with schools students at the tree planting; Credit: MECDD
On 23 November 2021 to mark this year's National Tree Day, Luxembourg's Minister for the Environment, Climate and Sustainable Development, Carole Dieschbourg, and children from the Maison Relais Sauerschlass as well as students from the agriculture school planted trees.
The municipality of Erpeldange-sur-Sûre organised the tree planting campaign in the "Rëngelschleed" together with the Ministry for the Environment, Climate and Sustainable Development and the Nature and Forest Agency and the municipality of Pütscheid.
In 2018, a former private coniferous wood stand was completely cleared on this area. The following year, Erpeldange-sur-Sûre acquired the private forest area and agreed to integrate it into the existing Natura 2000 area "LU0001006 Vallées de la Sûre, de la Wiltz, de la Clerve et du Lëllegerbaach". Natura 2000 areas are part of a Europe-wide network of protected areas for the conservation of endangered or typical habitats and species.
The aim of the campaign was to herald the start of a new species-rich mixed forest on a 37 hectare unwooded area.
Among other things, oak, maple, linden and beech were planted. A total of up to 89,000 trees are to be planted in the next few years. In addition to artificial rejuvenation, natural rejuvenation is also used and various areas are left to natural succession.
This planting campaign is financed by the national climate and energy fund.
In the coming days, trees for climate protection will be planted nationwide in cooperation with the regional branches of the Nature and Forest Agency. Additional details on plantation dates and sites are available at www.emwelt.lu.