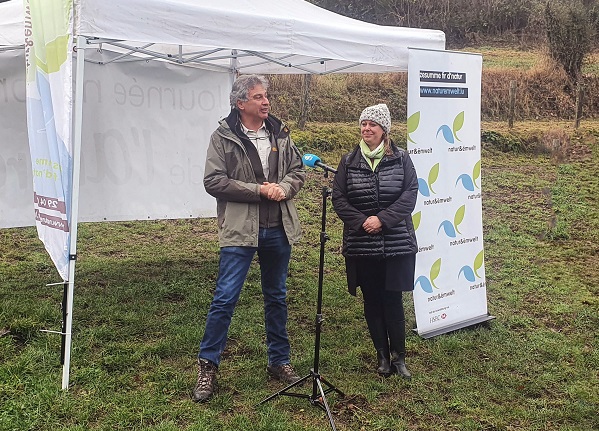 Credit: natur&ëmwelt
The Fondation Hëllef fir d'Natur of Luxembourg non-profit association natur&ëmwelt has launched a tree planting campaign on the occasion of National Tree Day, which took place this year on Thursday 18 November.
Initiated by Fondation Hëllef fir d'Natur in 1992 and placed under the patronage of Luxembourg's Ministry of the Environment, Climate and Sustainable Development since 1997, National Tree Day is organised annually in partnership with the Nature and Forest Agency and with the support of member associations. This annual event traditionally sees the launch of an awareness campaign, which aims to encourage public and private bodies, as well as members of the public, to plant trees and shrubs, essential elements for biodiversity in rural and urban areas.
This year's campaign kicked off on Thursday 18 November with the planting of 30 trees in Bilsdorf in the municipality of Rambrouch, in western Luxembourg. This site, located at a place called "Oschelter", belongs to Fondation Hëllef fir d'Natur.
Due to warmer autumns in recent years, linked to climate change, the foundation had decided to postpone National Tree Day until the third Saturday in November.
Last Thursday morning, after the welcome speech by Antoine Rodesch, Mayor of Rambrouch, the official launch of National Tree Day was announced: Patrick Losch, President of Fondation Hëllef fir d'Natur, emphasised the importance of trees and the respect that should be shown to them while transmitting this essential attitude to future generations. He pointed out that half of the mass of a tree's wood is stored carbon. Trees therefore play a role in the carbon footprint.
Luxembourg's Minister of the Environment, Climate and Sustainable Development, Carole Dieschbourg, who offered her patronage to the event, congratulated participants and encouraged them to continue and share their actions to protect nature and the environment.
After the speeches, participants took action by planting around 30 trees of various species.
For the 30th edition of this event, Mr Losch stressed the importance of the commitment of all actors in society to plant as many trees as possible. Planting trees is one of the means of combating climate change.
For the occasion, 30 trees of different species were planted: ten Tilia cordata (small-leaved lime), ten Sorbus aria (whitebeam) and ten Prunus avium (wild cherry).
From Saturday 20 November 2021, several municipalities, organisations, companies and private individuals have been continuing this tree planting initiative. People who are unable to plant trees are invited to support one of four national projects on www.naturemwelt.lu.
To support the actions of Fondation Hëllef fir d'Natur, donations can be made via bank transfer to the account: CCPLLUL IBAN LU89 1111 0789 9941 0000. Donations may be tax deductible.