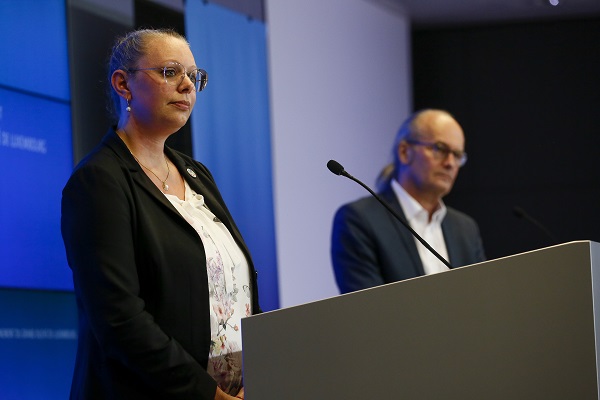 L-R: Carole Dieschbourg, Environment Minister; Claude Turmes, Energy Minister; Credit: SIP / Julien Warnand
At a press conference held this afternoon, Luxembourg's Minister of the Environment, Climate and Sustainable Development, Carole Dieschbourg, and the Minister of Energy, Claude Turmes, presented the first part of the new green relaunch ("Gréng Relance") financial plan.
This follows the submission of Luxembourg's National Energy and Climate Plan to the European Commission, which outlines policies and measures to achieve ambitious national targets for reducing greenhouse gas emissions (-55%) and increasing renewable energy (25%) and energy efficiency (40% to 44%) by 2030.
For the period 2020-21, some measures of Luxembourg's green relaunch plan have been significantly strengthened in the short-term. As part of the "Neistart Lëtzebuerg" economic recovery programme, these measures will support residents and local crafts and strengthen the link between the country's economic development on the one hand, and climate and energy policy on the other.
Regarding the new "clever living" ("Clever Wunnen") financial aid as part of this plan, the ministers announced a 50% increase in grants awarded for the sanitation of the different construction elements of the thermal budget of buildings as well as for the implementation of the controlled mechanical ventilation, and for the energy consultancy behind any energy renovation project.
Moreover, an additional bonus will apply to basic financial aid in the event of a replacement for an existing fossil fuel-fired boiler with a wood-fired boiler or a geothermal heat pump or connection to a heat network. Up to 81% of the costs for replacing a heat pump and up to 65% of the costs of a wood boiler will be reimbursed.
Regarding renewable energy, a 25% increase will apply to grants (maximum grant rate / amounts) awarded for solar thermal installations, heat pumps, wood boilers and connections to a heat network.
In general, the new "Clever Wunnen" grants will be valid for the duration of the national economic recovery programme "Neistart Lëtzebuerg", ie from 20 April 2020 (the day of the resumption of construction sites) until the end of the first quarter of 2021, subject to the finalisation of legislative and regulatory procedures.
All information on financial aid is available at www.myenergy.lu. Myenergy advisors are also available via the hotline: 8002-1190. Applications for financial aid can be made via www.guichet.lu and will then be processed by the Environment Administration.
The climate loan at a reduced rate and the climate loan at a rate of 0% remain available for anyone wishing to make an energy renovation.