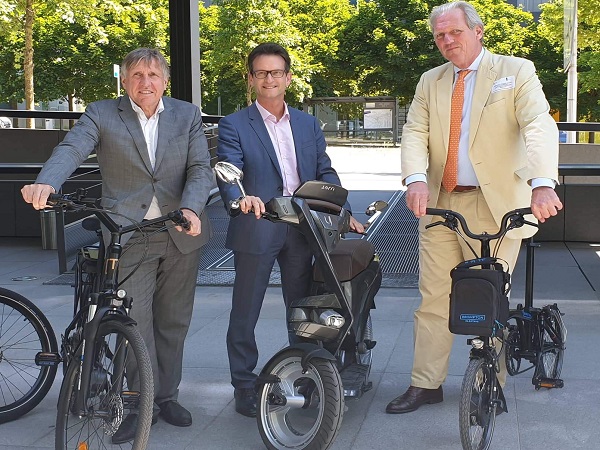 L-R: Luxembourg Minister for Mobility and Public Works, Francois Bausch; Carlo Thelen, director of the Chamber of Commerce; Ambassador Han-Maurits Schaapveld; Credit: Niels Dickens
This week, the Netherlands Embassy in Luxembourg organised an "Orange Smart and Electric Mobility Seminar", together with the Chamber of Commerce; the event attracted some 140 participants from both countries.
The main purpose of the event was to bring Dutch E-Mobility expertise to Luxembourg, better understand Luxembourg mobility issues and explore opportunities for the business community. Indeed, sustainability is an important topic for the Dutch embassy, the historic residence of which will also install solar panels and a rainwater system later this year. The residence already installed a Chargy point early this spring.
The Dutch Ambassador to Luxembourg, Han-Maurits Schaapveld, opened the event after which various guest speakers spoke around the three main topics of the seminar: charging and infrastructure, vehicles and services and applications. From the Netherlands, Shell, Fastned and Dutch automobile club ANWB presented the Dutch electric mobility landscape and solutions, whilst Luxinnovation represented Luxembourg by giving a presentation on the automobility campus in Bissen and cross border autonomous driving that was launched earlier this year in Schengen.
For his part, the Minister for Mobility and Public Works, François Bausch, spoke about the mobility challenges currently facing Luxembourg, as well as the new thinking around mobility and the de-carbonisation of transportation. According to Minister Bausch, society needs to think more in terms of the number of people that can be transported, rather than the number of cars, trains and buses.
During the networking lunch, there was also the opportunity to check out product demonstrations such as electric scooters, electric bikes, car sharing and several other services aimed at providing a smarter and more sustainable mobility.
During the afternoon, several innovative companies took centre stage and Luxembourg and Dutch partners met up in various workshops. One such workshop, led by the Dutch Charging provider E-violin and Chargy, saw the announcement that several charging providers in the Netherlands have signed a contract with Chargy that will help Luxembourg and Dutch electric car owners to charge without trouble in both countries.
The event ended with a networking drink.