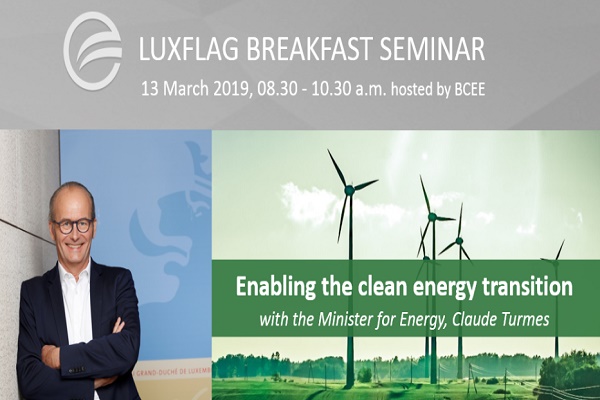 The Luxembourg Finance Labelling Agency (LuxFLAG) has announced the next edition of its breakfast seminar, welcoming Energy Minister Claude Turmes at the Banque et Caisse d'Epargne de l'Etat (BCEE/Spuerkeess) on 13 March 2019, from 08:30-10:30.
The upcoming LuxFLAG breakfast seminar will discuss the topic of "Enabling the clean energy transition", dealing with issues such as the way in which the global growth of clean energy technologies, falling costs of renewable energy and the stalling demand for coal, oil and gas are building the path for a clean energy transition. Such a development is believed to inevitably lead to trillions of dollars of stranded fossil fuel assets.
With renewable energy startups and green finance structures starting to gain high traction among investors, the seminar will similar discuss how can we make the change towards 100% renewable energy and the measures Luxembourg will take to become a proactive enabler and to make fast progress in the energy transition. In this context, there will be discussion on the ways in which investments can be reoriented towards driving new, investor-friendly project development in order to help fulfill a climate-neutral Europe by 2050.
The event begins at 08:30 with registration and breakfast, followed by welcome speeches by the BCEE and LuxFLAG. Luxembourg Minister for Energy Claude Turmes will then give a speech at 09:15, before moving on to a discussion between the minister and Nathalie Dogniez (Member of the LuxFLAG ESG Label Eligibility Committee and Partner at PwC Luxembourg). The seminar will close with a 15-minute Q&A session.