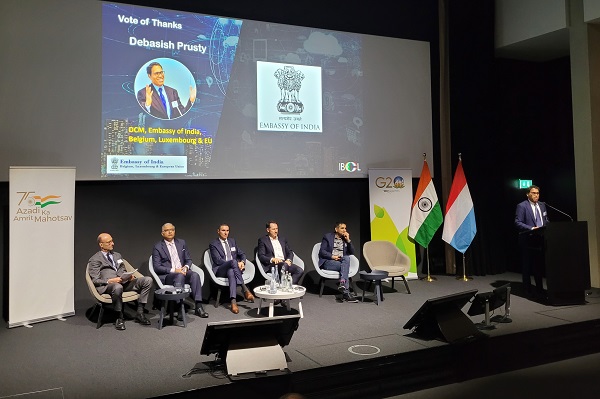 (L-R) Michel Wurth, ArcelorMittal Luxembourg Chairman; Ambassador Santosh Jha; Andrea Scammacca, B Medical Systems COO; André Schneider, Paul Wurth Luxembourg CEO; IBCL President Aditya Sharma; Deputy Chief of Mission Debasish Prusty; Credit: Jazmin Campbell/Chronicle.lu
On Monday afternoon, about 70 people attended the event "New India, Growing India: What Luxembourg could offer and gain in the partnership", organised by the Indian Business Chamber of Luxembourg (IBCL) and the Embassy of India in Brussels (also accredited to Luxembourg) at Deloitte.
This invitation-only event took place in the framework of the IBCL's fourteenth anniversary celebrations, as well as to mark 75 years of diplomatic relations between Luxembourg and India. IBCL President Aditya Sharma reflected on certain milestones for the chamber over the years, including obtaining bilateral accreditation recognition from the Luxembourg Chamber of Commerce in 2022 and recent trade delegation visits to India. He spoke of the ways in which businesses had adapted to survive and how the IBCL reinvented itself to support its members during the COVID-19 pandemic. He also reflected on the 75th anniversary of diplomatic relations between Luxembourg and India, noting how the two countries have worked closely together at the international level, particularly at the United Nations, over the years. He said he believed that continued cooperation would result in mutual gain.
In his opening remarks, Santosh Jha, Ambassador of India to Belgium, Luxembourg and the European Union (EU), emphasised the importance of India's relationship with Luxembourg, and indeed the EU as a whole. He referred to recent key moments in this relationship such as the first India-Luxembourg Virtual Summit on 19 November 2020, which brought together (virtually) the prime ministers of both countries, who agreed that this marked "a new phase in bilateral relations". Ambassador Jha highlighted specific areas of cooperation such as green finance, space and ICT, as well as in more traditional sectors like steel. He said: "Overall, the Luxembourg-India relationship is in good shape and moving forward." At the EU level, he mentioned the new EU-India Trade and Technology Council (TTC) and conveyed India's willingness to "engage with democracies" such as EU countries like Luxembourg.
Ambassador Jha went on to highlight what India represents and can offer today. He recalled that it is the world's largest democracy and fifth largest economy. He particularly emphasised the speed at which the country has been growing in recent years, "despite global headwinds". He said that India was very quickly becoming "the best place to do business" and that it was well on its way to reaching its climate goals, including cutting its carbon dioxide emissions to net zero by 2070.
He acknowledged that India was "not a perfect country" but that it offered a lot of opportunities for businesses, including those in Luxembourg. He cited the examples of B Medical Systems, a Luxembourg-based manufacturer and global distributor of medical equipment, and the Luxembourg-headquartered steel giant ArcelorMittal, who have already set up shop in India.
In his keynote speech, Luxembourg's Minister of the Economy, Franz Fayot, reflected on how the Luxembourg-India relationship has developed over the past 75 years. He noted that economic commercial ties have "diversified and evolved quite considerably" over the years, contributing to a "fruitful long-term partnership". He acknowledged that the pandemic had made trade more difficult but emphasised that both countries had "navigated this difficult time quite well". He highlighted the ways in which Luxembourg supported India during the health crisis, for example providing the country with ventilators amid a surge in COVID-19 infections in 2021. He also referred to the "success story" of B Medical Systems, which set up a factory in India "in record time" on the initiative of the prime ministers of both countries.
Minister Fayot cited health technologies, steel, ICT and digitalisation and space as key areas of cooperation. He also referred to Luxembourg's startup ecosystem, which is home to many young Indian entrepreneurs. He acknowledged that there was "a lot of good groundwork" but also "room for a lot of improvement" in terms of developing economic relations. He stressed the importance of sustainability across all economic sectors and noted that Luxembourg is "focused on strengthening trade relations with likeminded nations" like India. He assured that Luxembourg would work together with India to develop even stronger economic relations.
Michel Wurth, Chairman of ArcelorMittal Luxembourg, André Schneider, CEO of Paul Wurth Luxembourg, and Andrea Scammacca, COO of B Medical Systems, later presented their respective companies' business ties and experience with India. Representatives of India's Department for Promotion of Industry and Internal Tade and Power Finance Corporation Ltd joined remotely from India. John Psaila, Managing Partner at Deloitte, and IBCL Vice President Vijay Goyal also spoke briefly at this event.
The event also featured a Q&A session with the speakers and concluded with some words of thanks by Debasish Prusty, Deputy Chief of Mission at the Embassy of India in Brussels. The latter described this event as a "unique opportunity" to interact with industry leaders and key policy makers from both countries "under one roof" and concluded that the event had shown that there is "huge potential" for further collaboration between the two countries.
Afterwards, attendees could enjoy a networking cocktail.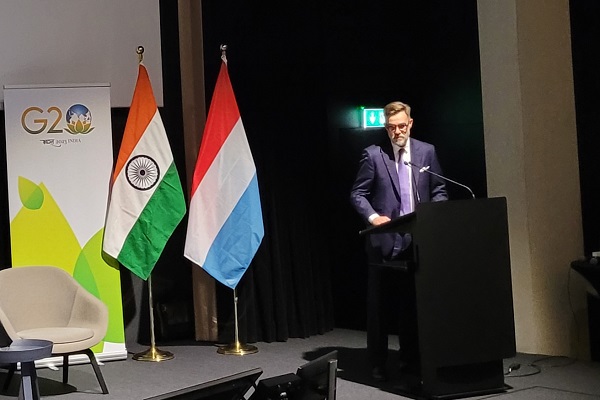 (Pictured) Franz Fayot, Luxembourg's Minister of the Economy