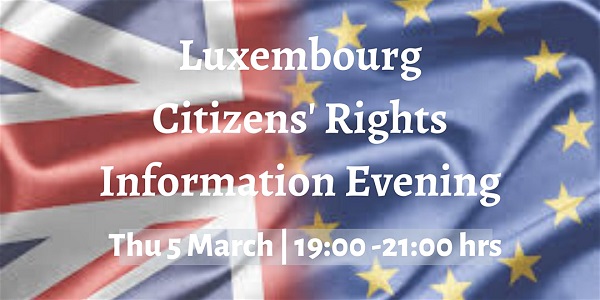 Credit: British Embassy in Luxembourg
The British Embassy in Luxembourg has announced that it is hosting its first Citizens' Rights Information Evening of the new year on Thursday 5 March 2020 at St George's International School in Luxembourg-Hamm from 19:00 to 21:00.
This event is part of a series of meetings held by the British Embassy to inform UK nationals living in Luxembourg about their rights as the UK leaves the EU.
On this occasion, the British Ambassador to Luxembourg, John Marshall, accompanied by colleagues from the British Embassy in Brussels, will provide an update following the UK's departure from the EU.
The evening will open with a brief introduction on what the Withdrawal Agreement will mean for British citizens living and/or working in Luxembourg, before the floor is opened for questions. Anyone with questions they would like to forward in advance should contact the British Embassy via email: enquirieslux@fco.gov.uk.
The evening will conclude with light refreshments and an opportunity to network and speak to British Embassy staff.
To register for this free event, see https://www.eventbrite.co.uk/e/citizens-rights-information-evening-tickets-93805750525?aff=efbeventtix&fbclid=IwAR363DBzWGn3bnzTBbc7--pRz39ULcdwXqBjqqZ7LlCUvXA8vy4Rca4AsPs.