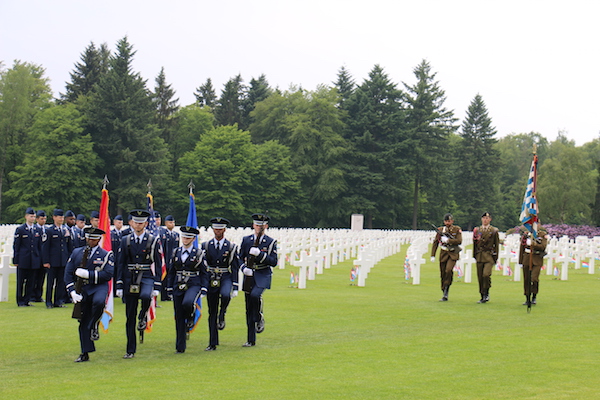 The United States Embassy in Luxembourg and the American Battle Monuments Commission held the annual Memorial Day ceremony, this past Saturday 23 May at the Luxembourg American Military Cemetery & Memorial in Luxembourg-Hamm.
A host of dignitaries and government officials were on hand to honour those who lost their lives, whilst serving the two countries in past wars. This year's edition was especially memorable, as it marked seventy years since the end of the Second World War, when American troops helped free Luxembourg from Nazi occupation.
To signal the start of the ceremony, which was open to the public, two US Air Force F-16 fighter jets performed a fly-over. There were also speeches from various representatives from both countries and the traditional parading of the flags.
HRH the Hereditary Grand Duke, Prince Guillaume, Prime Minister, Xavier Bettel, his Deputy and Minister of Defence, Étienne Schneider, the Minister of Labour, Employment and Social Economy, Nicolas Schmit, Vice-President of the Chambre des Députés, Henri Kox, Vice-President of the Council of State, Paul Schmit, and Commander of the Luxembourg Army, Romain Mancinelli formed the local contingent, while the US Chargé d'Affaires a.i., Alison Shorter-Lawrence hosted the ceremony and headed the American representation, along with Lieutenant-General, Darryl L. Roberson, Commander 3rd Air Force Europe and the 17th Air Expeditionary Air Force Africa Command.
Photos by US Embassy in Luxembourg