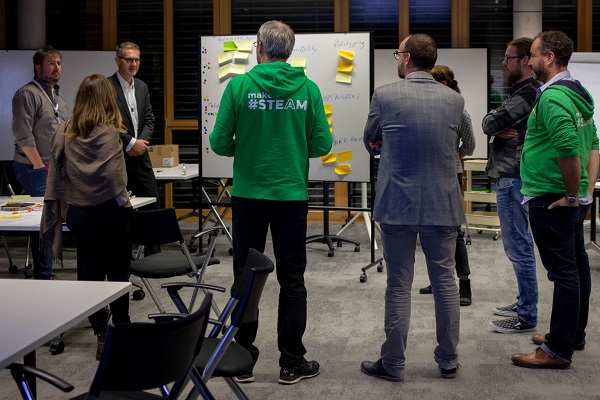 For the second time, the "DigiEduHack" initiative called for the creation of digital educational resources; more than 60 hackathons were organised across the world, including in Luxembourg.
Within this framework, the Make it asbl, which was responsible for organising the hackathon in Luxembourg, called for the creation of educational resources that could be used on a mobile basis. These resources aimed to contribute in a fun way to the promotion of science.
Hackathon coach Oliver Stanislowski explained: "In view of the health restrictions linked to COVID-19, we decided to organise our hackathin in a 100% digital way, from Thursday 12 to Friday 13 November".
Fellow coach Sarah Haas added: "We finally received registrations from three different time slots, combining Germany, Turkey and even India".
The winning contribution was submitted by Johannes Osterburg from Merseburg (Germany). In just 24 hours, the future media teacher created an educational game in the field of physics, in which it is possible to see the effect of gravity. In addition to a very complex game environment, he was able to create a virtual playground for which the player can change the centrifugal force of a spaceship. This then allows him / her to jump on platforms of different heights from the ground.
The jury admired the multiple uses of the game and the possibility for young people to be able to further develop the game themselves. The contribution is now among the submissions on the international DigiEduHack site. The award-winning game can already be integrated into the MakerBuzz framework in Luxembourg. Anyone interested can order a "Spinning Colors" workshop from the MakerBuzz via a contact form at www.makerbuzz.lu.
All MakerBuzz workshops are organised on request and in accordance with the health rules currently in force.
The MakerBuzz received financial support from the National Research Fund (Fonds National de la Recherche - FNR) and the Fondation André Losch.