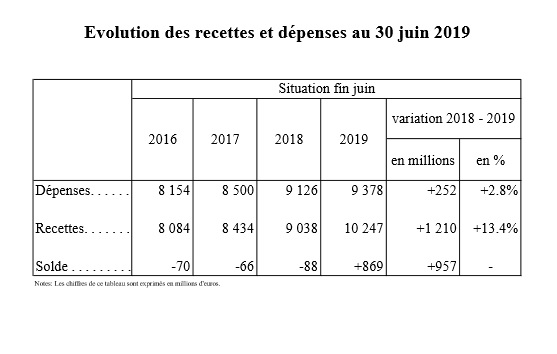 On Wednesday 24 July 2019, Luxembourg's Minister of Finance, Pierre Gramegna, presented the state's financial situation as of 30 June 2019 at the joint meeting of the Finance and Budget Committee and the Budget Execution Control Commission.
According to the European standards SEC 2010, the balance of the Central Administration is running at a surplus, namely €869 million, which corresponds to an improvement of €957 million compared to June 2018. Because of the use of provisional figures over the first four months of 2019, public spending is still evolving at a slower pace than last year, although this momentary effect should gradually dissipate over the rest of the fiscal year. Revenues grew by +13.4% compared to the same period in 2018, while spending rose only 2.8%.
Revenues collected at the level of the three tax administrations, i.e. the Administration of direct taxes, the Administration of indirect taxes and VAT, and the Administration of Customs and Excise, have reached 52% of the budget and are therefore, overall, slightly higher than the 50% that theoretically should be achieved after one half year.
On the other hand, following the increase in excise duties on energy products with effect from 1 May 2019, sales have slowed. This trend is particularly noticeable for diesel, where sales in May and June 2019 fell by 6.2% compared to the same period in 2018. It will be necessary to wait for the evolution of the coming months to definitive conclusions as to the persistence of this trend.
Minister Gramegna commented "The healthy situation in the Central Administration is the corollary of prudent management of public spending and positive and sustainable economic growth. Since the end of the provisional budget period in April 2019, the departments will be able to gradually implement their policies, stemming from the coalition agreement. In the context of the implementation of the 2019 budget and the preparation of the 2020 budget, the Ministry of Finance will continue to ensure the control of expenditure."