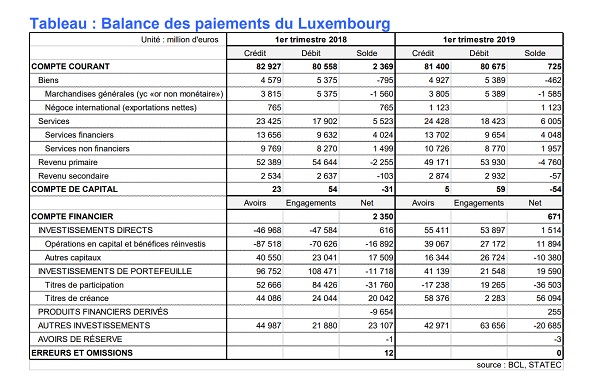 Balance of payments; Credit: STATEC; BCL
The Luxembourg economy has recorded a surplus of €725 million in the first quarter of 2019, according to the Banque centrale du Luxembourg (BCL) and STATEC.
STATEC and the BCL have reported that current accounts showed a surplus of over €725 million the first quarter of the year, down €1.644 million compared to the same period in 2018.
Meanwhile, the trade deficit (negative balance of general merchandise) rose by €25 million or 1.6% and the deficit of transactions in goods was €333 million in the first quarter of 2019. The latter should be absorbed by the net exports of international trade which increased by about 47%. It is noted that these tentative figures depend on volatile trading activity at present.
Nevertheless, the balance of international trade in services rose by nearly 9% in the first quarter of 2019 (+€482 million), driven by non-financial services. Above all, exports of professional services, management consulting and audiovisual services from some large multinationals increased significantly. On the other hand, the balance of exports and imports of financial services only slightly increased of 0.6%. This is mainly due to a slight increase in average assets managed by investment funds during the period under review (2.1%).
In the financial account, direct investment flows resumed in the first quarter of 2019, for both assets (€55 billion) and liabilities (€54 billion), after disinvestments observed throughout the year 2018. With regard to portfolio investment, transactions in securities issued by Luxembourg (largely UCI units) resulted in a sharp decrease of inflows )(€19 billion) in the first quarter of 2019 compared to inflows of €84 billion in the first quarter of 2018. In the case of foreign securities, residents also reduced their investments, which totaled €41 billion in the first quarter of 2019 compared with €97 billion in the same quarter of 2018.