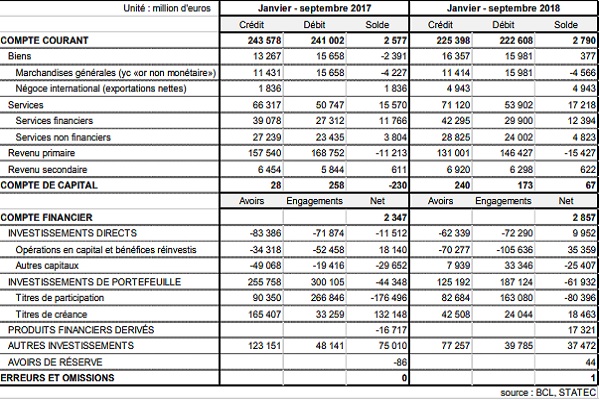 Credit: Statec
Luxembourg recorded a tax surplus of €2.8 billion in the first three quarters of 2018.
The Banque centrale du Luxembourg and Statec have reported that the Grand Duchy's current account represented an increase of more than €200 million during this period compared to the same period the previous year.
The balance of property transactions went from a deficit of €2.4 billion in 2017 to a surplus of €377 million in 2018. This change is explained by strong growth in net exports related to international trading. The "traditional" trade balance (general merchandise), however, remained structurally in deficit, which widened by about €340 million during the first nine months of 2018. This was mainly due to the increase in imports of energy and chemical products.
Meanwhile, net exports of services, both financial and non-financial, increased during the reviewed period. The balance of international trade in services for the first nine months of 2018 amounted to €17.2 billion, an increase of more than €1.6 billion compared to the same period in 2017 (+10.6%). Exports and imports of financial services also recorded growth rates of +8.2% and +9.5% respectively. This is largely related to the evolution of the net assets managed by the investment funds over the same period. The surplus generated by non-financial services significantly increased (by approx. €1 billion or +26.8%), notably as a result of other business services and, more specifically, trade-related services.
In the financial account, direct investment flows were dominated by divestment operations for both assets (-€62 billion) and commitments (-€72 billion). Portfolio investments similarly fell (to €187 billion from €300 billion in 2017) resulting from transactions in securities issued by Luxembourg (largely UCI units). In the case of foreign securities, residents also reduced their investments, which totaled €125 billion in the first three quarters of 2018 compared with €256 billion in the same period in 2017.