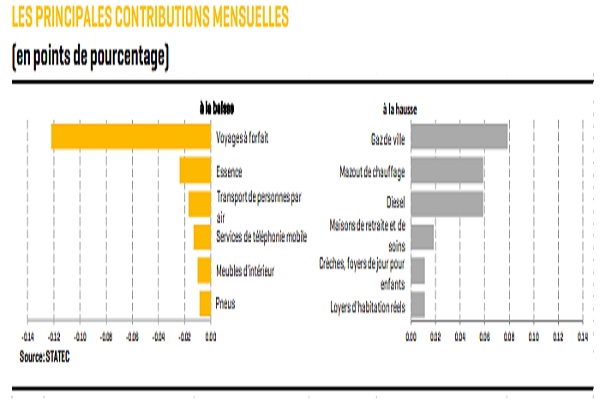 The annual rate of inflation in Luxembourg has stabilised at 2.0%, according to Statec.
In October 2018, the national consumer price index, calculated by Statec, rose by 0.1% compared to the previous month. This movement is mainly due to higher prices for petroleum products.
These have been on the rise since April this year and in October, petroleum product prices rose by 3.1% compared to the previous month. At the pump, motorists pay 3.6% more for a full tank of diesel, while the price of a full tank of petrol has dropped by 2.0%. As for heating oil, prices have risen by 4.9%, whilst city gas rates saw an average increase of 5.3% in one month. Similarly, the price of black gold derivitatives rose by 16.7%, even reaching as much as +32.4% for heating oil and 11.4% for city gas.
On the other hand, prices for goods and services excluding petroleum products fell by 0.1% compared to September. This decrease is largely due to the price of package holidays, which dropped by 4.9% and those of flight tickets, which dropped by 8.4%. Meanwhile, retirement and care homes, as well as nurseries and day care centres saw an increase of 0.5% and hairdressing and beauty salons prices rose by 0.2%.
In the food sector, the monthly price decreased for vegetables as well as for fish and seafood but these were countered by increased prices for fruits, coffee and other non-alcoholic beverages. In annual comparison, food prices are 2.5% higher.