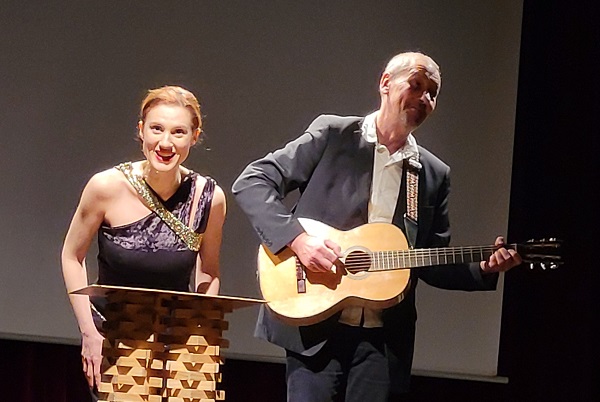 (L-R) Actress Valentina Vandelli as Isabel Green; Denis Jarosinski, musician & puppeteer; Credit: Chronicle.lu
Chronicle.lu had the opportunity to sit in on the Luxembourg premiere of Isabel Green by French-Italian theatre company Compagnie Belladonna at Altrimenti cultural centre in Luxembourg-Ville on Friday evening.
Valentin Ehrhardt, Artistic Director of Compagnie Belladonna, introduced the play, an adaptation created in 2021, during the COVID-19 health crisis, at a time when many theatres were closed. Now, in addition to various performances in France (and this Luxembourg premiere), the Lorraine-based theatre company is set to take Isabel Green to this year's Avignon Festival OFF, one of the world's largest performing arts festivals, which is taking place in Avignon, France from 7 to 29 July 2023. Laure Roldàn and Gaëtan Vassart's Petit frère (La Compagnie Juana La Loca) will represent Luxembourg at this year's festival.
Based on Italian playwright Emanuele Aldrovandi's 2017 play of the same name, Isabel Green focuses on the eponymous character (played by Valentina Vandelli), a big Hollywood star whose hard work finally pays off when she wins the Academy Award (Oscar) for Best Actress. But now that she has achieved this, after seven nominations and years of personal sacrifices, she no longer knows what to say, or even if this is what she really wanted.
This (mainly) one-woman show sees Paris-based Italian actress Valentina Vandelli (with the support of musician and puppeteer Denis Jarosinski) deliver a captivating and moving inner and exterior monologue, leaving the audience and the character herself unsure of what is being said out loud (as part of her improvised and unacceptably long Oscar speech) and what she is saying in her own head. After years of trying to stay slim and putting her career first and family second, Isabel has achieved everything she always wanted – fame and success – or has she? Years of social pressure and expectations have driven her out of her wits, culminating in this final act of desperation. Isabel Green, portrayed beautifully by Valentina Vandelli, takes the audience with her on this emotional rollercoaster as she ultimately says "No!" to today's society.
The play was primarily in French with certain parts in Italian with French surtitles (hinting at the main character's – and actress' – immigrant background). The use of props, multimedia and music added to the play's overall charm. The setting was more intimate than some of the other theatres where the play has been performed, according to Valentina Vandelli, with about 20 people making up the real and fictitious (Oscar) audience. Within this format, there was a good amount of audience participation on Friday evening. Speaking to Chronicle.lu, Valentina Vandelli praised the "universal" message of the play, which addresses topical issues such as work-life balance, burnout and societal pressure and expectations (particularly for women).
Compagnie Belladonna was set up in 2011 and currently has a team of about ten people.