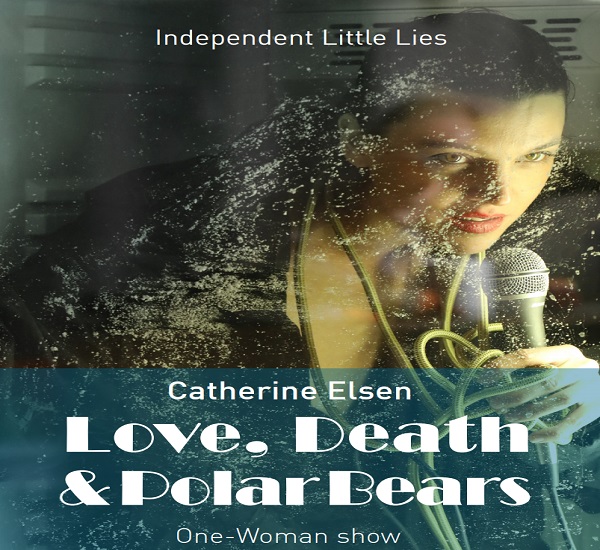 The artist Catherine Elsen will present her one-woman show "Love, Death and Polar Bears" at the opderschmelz cultural centre in Dudelange on 1 and 2 April 2019, from 20:00.
Catherine Elsen, who possesses an MA in Dance Theatre from Trinity Laban Conservatoire of Music and Dance in London, will make her way through the dried out valleys and defrosting lands of the alienating world of today. Her show, held in English, will feature a combination of performance and concert dealing with love... of self, for each other and for our surroundings. Love, Death and Polar Bears is a scream from the tip of an iceberg whose depth none of us can really predict.
Pop songs, electronic effects, Persian poetry, humour and pathos make this 60-minute show an eclectic concert-performance.
The premiere is now sold out, but tickets are still available for a second session, taking place on 2 April 2019 from 20:00. Youth tickets cost €5 (presale, plus fee) or €7 (at the door), adult tickets cost €10 (presale, plus fee) or €15 (at the door) and are free for Culture Pass holders. See: http://www.opderschmelz.lu/agenda/1415_1106.
Catherine Elsen is a multi-disciplinary performer, working at the interface between theatre, movement and music. Two years ago, she joined the theatre collective "Independent Little Lies" (producer of this show in collaboration with CCRD opderschmelz Dudelange). In 2017, she was given Carte Blanche for "Nuit des musées" where she performed various short pieces. Catherine will also present a (short version) of her show at Siren's Call neimënster on 29 June 2019 (at 15:20 and 16:45) and again at Aalt Stadhaus Differdange on 23 October 2019 (at 20:00).