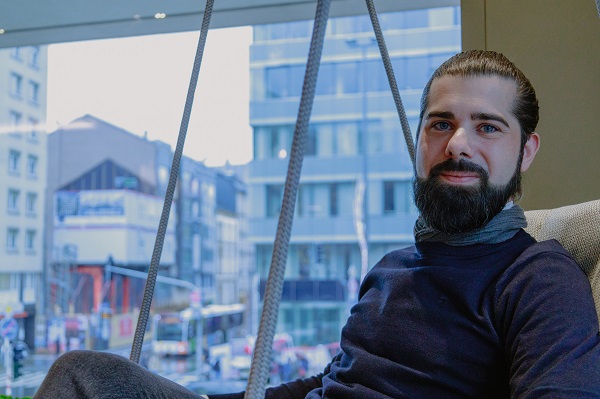 Tom Steffen, CEO of Groupe Steffen; Credit: Ali Sahib
Chronicle.lu recently got the opportunity to speak with Tom Steffen, CEO of Groupe Steffen, a family-run restaurant and catering company founded in Luxembourg in 1989.
In 2009, Tom Steffen joined the family business, which was founded by his father Frank Steffen, and took over as its CEO last year.
Speaking to Chronicle.lu about the impact of the COVID-19 pandemic on the group's activities, Tom Steffen noted that there had been "sinister" consequences for all company activities, from catering to events. The restaurants run by the group were notably impacted by the lockdown and barrier measures put in place in response to the pandemic. Whilst he recognised that these measures were "necessary" and expressed an understanding of the science and expertise behind them, Mr Steffen noted that they have a "real effect for you as a company" and there is a feeling of "general exhaustion" linked to the pandemic and related restrictions.
He added that the Luxembourg Government had "really stepped up to the table" in the first year of the pandemic, offering several subsidies and support programmes. That being said, "substantial costs" remained.
Despite not being able to run "business as usual", by September 2021, there appeared to be "a clear path to new normality" - that was until another wave of COVID-19 infections and the emergence of the Omicron variant led to the introduction of new restrictions across Europe. In Luxembourg, the government introduced a curfew (23:00) for the hospitality sector just in time for the Christmas and New Year's Eve celebrations.
Tom Steffen explained the desire of both customers and those working in the sector, not least at Groupe Steffen, to get back to live events and dining out. The new wave and associated restrictions at the end of 2021 were thus "morally very frustrating". Whilst recognising that the restrictions in Luxembourg have not been as strict as those elsewhere, the situation is "still disappointing for customers". He expressed hope that this will all "blow over quite quickly" so that they can serve customers again and have more live events from the beginning of March.
In terms of adapting to the pandemic, Mr Steffen explained that: "As the person at the head of any form of organisation, with some creativity and resilience, you try solution A then B then C but everything we did was a little drop of water on the hot stone [i.e. insignificant]". That being said, the company remained able to "deliver high quality services" because of its teams. In this sense, Groupe Steffen "tried to hold on as long as possible to its existing structure". Mr Steffen added: "We tried to hold ourselves to a moral high standard".
Regarding lessons learned from the pandemic, Tom Steffen said: "It may be a cliché, but good instruments are forged in fire. The tough times really forge you". He expressed pride at the lessons learned at the human level in particular, noting that "the reactivity we were able to generate when not in business as usual mode was inspiring, the capabilities people found in themselves was beautiful". He added that a lot of respect had been gained within the teams because of this.
In terms of how the pandemic has shaped his way of thinking and planning ahead, Mr Steffen said he had learned to "take things day by day, step by step".
Concerning the recent "pre-opening" of Groupe Steffen's new eat-in "La Mezzanine du Boulevard" restaurant and "L'Atelier Royal" take-out, Tom Steffen noted that these ventures were off to a "very encouraging" start. "It's still early days. We are adapting products and even the opening hours to customer expectations", he explained. He added that he was looking forward to the "very human work" that lay ahead, with co-workers getting to know each other and learning to complement their strengths.
Looking further into the future, Tom Steffen said that there were no big openings foreseen in the next six to twelve months, although the teams had "big plans in their heads, trying to incrementally improve the service offering".
His advice for fellow entrepreneurs and companies in the hospitality sector during these challenging times was to "keep fighting for what you believe in".
"These times always exist in some form or other, but if you truly believe, your conviction won't go away. If it goes away, it might not be the right conviction", Mr Steffen noted: "If it's easy you're not growing, professionally and personally". He concluded: "The world goes on turning. You can only touch your small group of people so set achievable goals to make them as happy as possible and enjoy the little things".