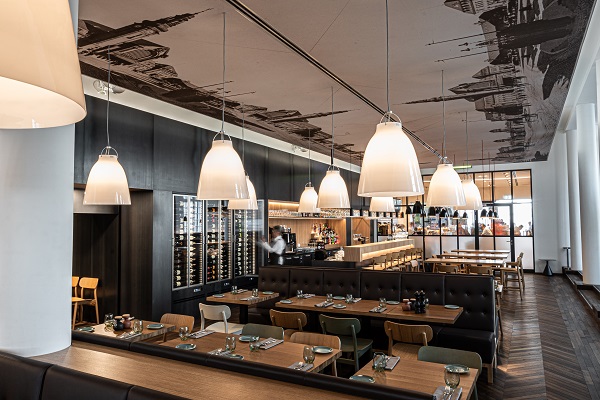 Le Quai Steffen; Credit: Julie Merhi
The Steffen Group has announced the opening of its new restaurant "Le Quai Steffen" at the Luxembourg railway station, after a long-term preparatory work that started back in October 2017, following the invitation to tender from Luxembourg Railways (CFL) for a concession to run a station restaurant for a period of 10 years.
After more than a year and a half of renovations and compliance work, the "Le Quai Steffen" restaurant opens its doors to the public with the promise of a very pleasant and contemporary relaxation area offering a gastronomic experience: the first challenge is to delight the palate of lovers of quality products; then to satisfy those in a hurry; and also to cater for those customers who want to organise a business lunch between two TGV trains or those who like to come to stroll in this new place of Luxembourg gastronomy.
A new component in the renewal of the station neighbourhood, one of the challenges of this new restaurant in the heart of the city, with fifty passionate employees, with a desire to put all their expertise to the challenge. The arrival of the tram to the station area will most likely attract even more people, which should promote the development of this site and ensure full employment of staff.
The restaurant has 123 seats and 10 at the bar. A terrace area for ​​80 people will be opened next summer. With a flow of +/- 70,000 daily users, the station represents a good prospect for the restaurant and for the team which is composed of circa 50 people in addition to the 12 already engaged for the take-away service currently operated. The new restaurant offers table service as well as at the bar; the offer is varied combining dishes from Luxembourg's terroir, a vegetarian range, avant-garde products and those that are part of our European culture.
Le Quai Steffen makes a point of ensuring that there is a balance between the aesthetics of its products, their irreproachable quality and excellent service. "One can not work without the other," explained Frank Steffen: "Our guiding thread has always been to offer exceptional products to our customers, and also to guarantee parents that their children can eat our products safely, because they are healthy and natural. We also subscribe to sustainable development, with the desire for transparency in terms of hygiene and quality. We have a team of engineers internally dedicated to this requirement."
A total of 25 contractors were involved in working on the shell of the new restaurant to the finishing works. The dining area has a surface of 226m2, with the take-away area at 57m2. Including the kitchens, cloakrooms, technical rooms and offices, the total restaurant area is 1,126m2.