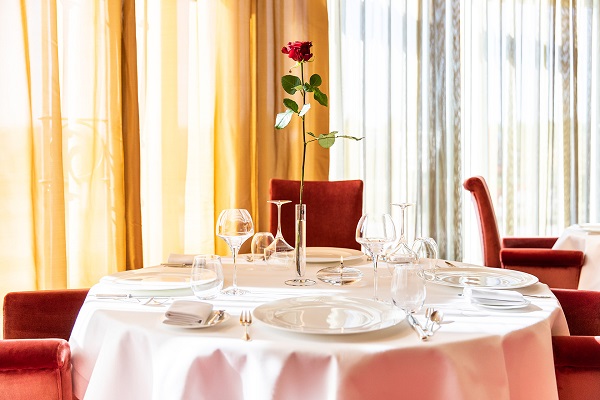 The restaurant "Les Roses" at Casino2000 in Mondorf-les-Bains is celebrating, for the fourth occasion, with the famous house of Venoge and is proposing a unique menu based around Scallops & Champagne de Venoge, for which it organised a tasting on Monday.
The Princes range from Champagne de Venoge comes from a careful selection of grapes in the best champagnes and is distinguished by its elegance and its acidic structure.
Monday evening's tasting involved:
- Noix de Saint-Jacques de la Baie d'Erquy, Ecume de Jus d'Ananas & Safran des Vosges, served with "Princes" Extra Brut, a French royal champagne - scallops from Brittany, served carpaccio-style with parsnip.
- Saint-Jacques Poêlées & Pétales de Boudin Noir du Pays, served with "Princes" Blanc de Blancs - Normandy scallops served with slivers of black pudding, with a chardonnay champagne.
- Pavé de Maigre Rôti sur sa Peau with Saint-Jacques Confites, served with "Princes" Blanc de Noirs, made from pinot noir grapes, with blackcurrant jam.
- Poire de Bœuf & Paprika de Hongrie, served with "Cordon Bleu" Millésimé 2002; served with turnip and horseradish.
- cheese selection, served with "Cordon Bleu Millésimé" 2002.
- a coconut panacotta with a champagne soufflé
- "Tout Chocolat", Piment d'Espelette, Cacao & Gingembre, served with "Cordon Bleu" Rosé Champagne (60% pinot noir, 20% chardonnay)
The Restaurant "Les Roses" is serving the Floralies "Saint-Jacques" menu from Friday 12 October to Thursday 1 November 2018.
Cost: 5 courses: €55/person, food and wine pairing €99/person; 7 courses: €74/pers, food and wine pairing €129/person.

The restaurant "Les Roses" is now open for longer - on Sundays, Mondays and Thursdays from 18:30 to 22:30, and on Fridays and Saturdays from 18:30 to midnight.

For further information, see www.casino2000.lu and facebook.com/casino2000lu/.
The restaurant is reserved for adults, with an ID.