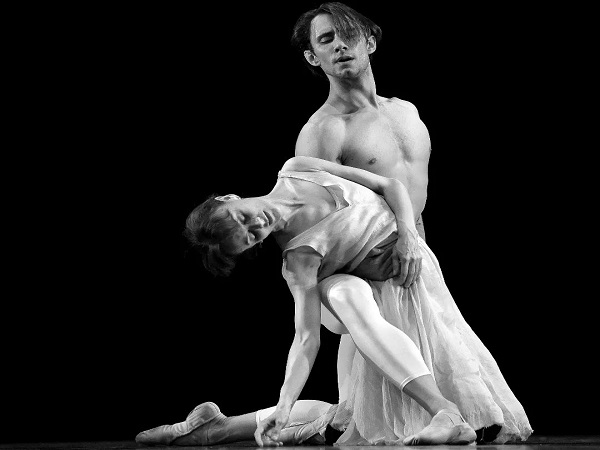 Maria Eichwald and Alessandro Staiano; Credit: Enrico della Valle
After a two-year forced break due to the COVID-19 pandemic, a new edition of the Luxembourg Gala des Étoiles (gala of stars) will take place in the Grand Théâtre de Luxembourg on Saturday 18 June 2022 at 20:00 and on Sunday 19 June 2022 at 17:00.
Star ballet dancers from ten different nations will come together to spread a message of tolerance and peaceful coexistence and to make it clear that violence has no place in their understanding of democracy.
Following the success of the past few years, with dancers such as Svetlana Zakharova, Lucia Lacarra, Marianela Nunez, Daniil Simkin and Vladimir Malakhov, the organisers of the Luxembourg Gale des Étoiles have once again put together a star-studded programme for this year's edition.
In addition to classical variations, the audience can expect creations and performances by prima ballerinas Emanuela Montanari, Maria Eichwald, Hyo-Jung Kang, Ketevan Papava and Iana Salenko, as well as internationally sought-after stars and soloists Alessio Carbone, Davide Dato, Marcos Vinicius Da Silva, Marcos Menha, Alessndro Staiano and Dinu Tamazlacaru, accompanied by live music by Maestro Igor Zapravdin, who has been a pianist at the Vienna State Opera for 30 years.
The gala also features the performance of choreographies by Jerome Robbins, Angelin Preljocaj, Marius Petipa, John Cranko, Pierre Lacotte, Dmity Bryantsev, Martin Schläpfer, Mario Schröder and Volja Kastsel.
Moreover, Luxembourg dancer Natasa Dudar, who has been a soloist with the Leipzig Ballet for seven years, will dance a duet from the ballet "Mozart Requiem", together with her dance partner Marcos Vinicius Da Silva, and a solo from the "Johannes Passion". Similarly, Viktoria Tvardovskaya and Susanne Wessel from the newly founded Luxembourg Ballet Company, together with the choreographer Volja Kastsel, will present a duet as well as a solo.
Laurent Beretta, a moderator and illusionist from Paris, will also be performing at this year's event.
Tickets for this cultural event are available at all known ticket agencies and online at www.luxembourgticket.lu or via tel. (call centre): 470-8951. Ticket prices are set at €88 (category 1), €66 (category 2) and €44 (category 3).