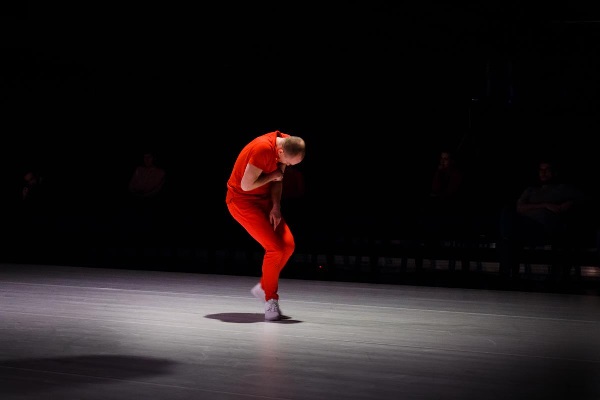 Credit: W. Kadrze – P. Bedliński
To celebrate International Day of Dance (29 April) 2019, TROIS C-L has unveiled its "Dance is a party" programme, scheduled for 3 May 2019 at Banannefabrik in Luxembourg-Bonnevoie.
To celebrate this date, TROIS C-L has created a rich and varied programme with performances from local dancer Georges Maikel Pires Monteiro and international dancers Rhiannon Newton (Australia) and Janusz Orlik (Poland), accompanied by a video by Julika Rudelius (Germany) and a conference led by Daniela Lieb (France/Luxembourg).
As part of a partnership with the Melbourne Dancehouse, the TROIS C-L will host Australian choreographer Rhiannon Newton for a research residency, for the creation of a solo. She continues her reflection on the interactions between memory and movement, through a focus on a specific part of the body, that of the female torso, as well as exercises of repetition and improvisation.
The choreography centre will also welcome Polish dance company Janusz Orlik, in collaboration with the Embassy of the Republic of Poland and as part of the Polish National Day of 3 May 2019. "Mute", created in 2018, plunges the viewer into a throbbing state of fear, doubt and uncertainty... It is a play on the power of the body over words.
Next on the agenda will be Georges Maikel Pires Monteiro's "Mister Perfect", a choreographic creation in which he questions perfection, as a social mask that is used to protect oneself from the eyes of others and oneself. A musical creation by Eric G Foy, Georges Maikel Pires Monteiro will be joined by two other performers on the set: Kevin Simoes Loureiro and Elina Kariya.
In addition, TROIS C-L will present "Forever" by Julika Rudelius, in partnership with MUDAM Luxembourg. In this video installation on two screens, several women from American high society talk about their lives, their conception of happiness and beauty.
Finally, the researcher in literature and performative arts Daniela Lieb will offer a short presentation of the story of a dance pioneer in Luxembourg, Stenia Zapalowska, in the context of the publication of a book from a collaboration between the Center national de littérature (CNL) and CID Fraen an Gender.
Doors will open at 18:30 for a 19:00 start.
TROIS C-L does not charge entrance fees, so it is up to each spectator to determine what they pay according to their enjoyment of the evening.