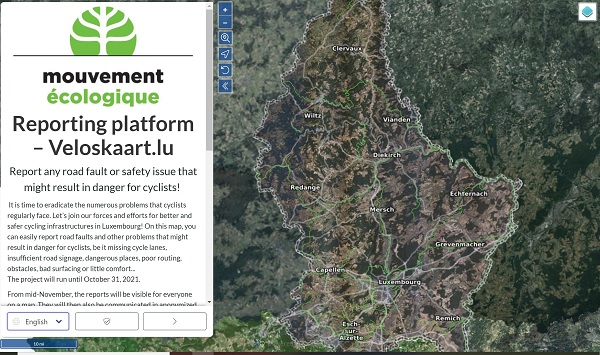 Credit: Mouvement Ecologique / veloskaart.lu
Luxembourg non-profit organisation Mouvement Ecologique (in English: ecological movement) has announced the launch of its new project: veloskaart.lu.
Last year, the non-profit asked members of the public to report problematic places for cyclists as part of "Alles op de Vëlo Spezial 2020". As a result, Mouvement Ecologique asbl received over 300 suggestions, which it also forwarded to municipalities and other important actors. Throughout the year, the non-profit continued to receive a lot of positive feedback for its campaign, which it aims to build on this year, as well.
This year's project has been optimised and simplified to include an interactive map where cyclists can report dangerous and problematic places (e.g. a road fault or safety issue that might result in danger for cyclists), based on photos and videos, until 31 October 2021. After this date, the non-profit will forward the map (by then showing all the reported places) to the municipalities and the Ministry of Mobility and Public Works.
To participate, visit veloskaart.lu.