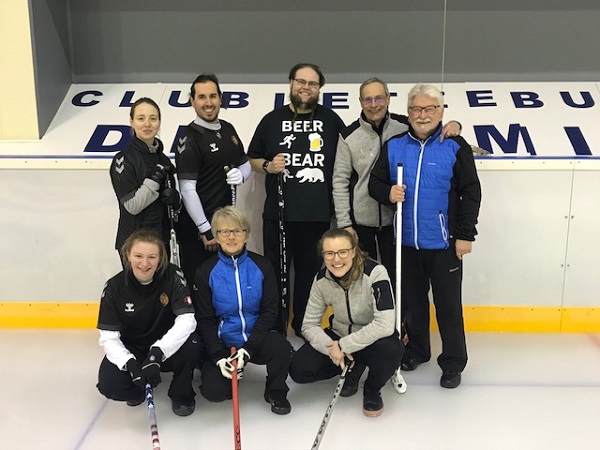 Curling winners & runners-up (top, L-R): Lisa Maria Akbar, Florian Roemer, Daria Manenkova, Axel Detert;
This year's 46th Coupe de l'Amitié iternational teams curling competition was held at Kockelscheuer Ice arena at the weekend, with Hamburg Mixed taking the top honours and Swiss team Parpan in second.
Luxembourg teams Letz plus, Dollysweepers and Cabakaphi finished 3rd, 4th and 5th respectively.
The international tournament involved ten teams comprising players of eight different nationalities competing in fifteen games which resulted in an excellent level of curling throughout the whole weekend.
The two best teams played the final, where the Hamburg Mixed team won in a tight game against Parpan from Switzerland (last year's winners).
Final Table
1. Hamburg Mixed (GER)
2. Parpan (SUI)
3. Letz plus (LUX)
4. Dollysweepers (LUX)
5. Cabakaphi (LUX)
6. Cologne (GER)
7. Buttoneers, Düsseldorf (GER)
8. Rhinestones, Düsseldorf (GER)
9. Charleville-Mézières (FRA)
10. Chiasso (SUI)
Of particular note was a remarkable performance by nineteen-year-old skip Virginie Hansen, who team Letz plus finished in 3rd place, finishing higher than the other two more experienced teams of CC Letzebuerg. She played with twelve-year-old Hanna Beba, newcomer Carole Remesch, Daniel Schweich, Volker Beba and Jean Champagne.
According to Alex Benoy, tournament organiser, coming from curling in school, this result shows that the way that Curling Luxembourg has progressed under Karen Wauters (member of the Curling Union board and President of the CC Letzebuerg) and her committee is the right way to bring the Luxembourg Curling Sport into the future.