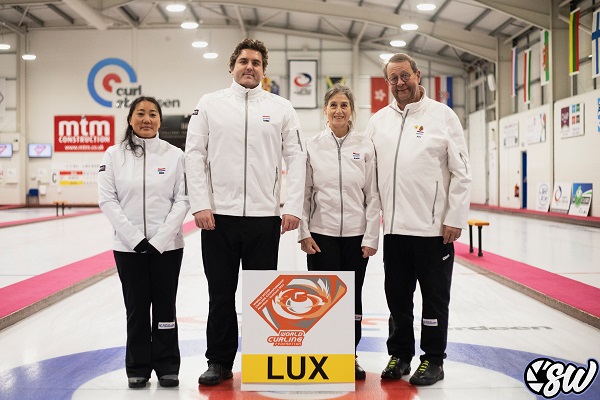 L-R: Maja Bjerg-Petersen; Lukas Jirousek; Karen Wauters; Alex Benoy; Credit: Luxembourg Curling Federation
The Luxembourg Curling Federation has reported that the four-strong national team lost (or forfeited, in one case) their final games at this year's World Mixed Curling Championship in Aberdeen, Scotland (UK).
Having lost all previous games, the Luxembourg team, composed of Maja Bjerg-Petersen, Lukas Jirousek, Karen Wauters and Alex Benoy, played their best game against Australia on Wednesday 19 October 2022. They were leading 6-5 before the opponents played their last stone; Australia's fourth player managed to make the shot exactly into the dolly, despite some well-placed guards in front. Luxembourg ultimately lost the game against a team that had already registered five wins in this championship.
On Thursday 20 October 2022, lead Maja and second Lukas did not feel entirely well but played against tournament favourites Switzerland. Luxembourg lost the game 0-11. After this game, the two players tested positive for COVID-19 and the Luxembourg team had to forfeit their last game against Austria, as a minimum of three players are needed on the ice.