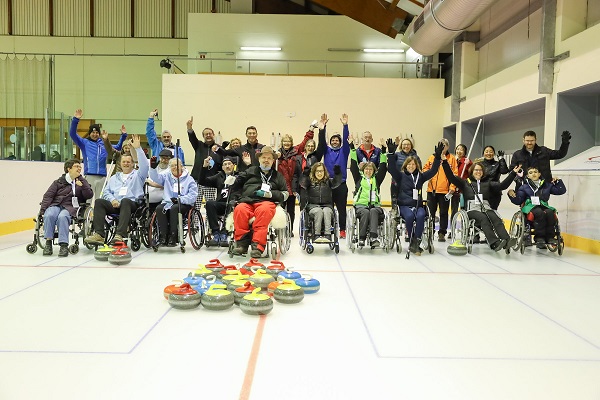 Credit: Luxembourg Curling / Boshua
Less than a week before the start of wheelchair curling competitions at the Paralympic Winter Games in Beijing (China), Curling Luxembourg and the Luxembourg Paralympic Committee (LPC) organised the "Wheelchair Curling Days" on Saturday 26 and Sunday 27 February 2022.
More than 25 participants, with or without disabilities, met on the Kockelscheuer ice rink. The newcomers benefited from the extensive experience of the Dutch team around national coach Sippie van Ens as well as the Curling Luxembourg team and co-organiser Karen Wauters.
After learning the basic techniques and rules on Saturday afternoon, a tournament was organised on Sunday with mixed teams made up of experienced players and newcomers.
Karen Wauters of Curling Luxembourg expressed her delight at the success of these Wheelchair Curling Days: "The weekend was fantastic and we are very proud to have been able to bring together so many people on the ice. We firmly believe that curling is a sport that brings people together. and which can contribute to social inclusion".
Mathis Finke, sports coordinator of LPC, added: "We believe that it is very important to expand the sports offer for people with disabilities in Luxembourg and we consider it a great advantage if this can be done in cooperation with committed clubs and associations such as Curling Luxembourg. We are happy to see that efforts to establish a wheelchair curling offer, which have been around for a long time in this case, seem to be bearing their first fruits and we look forward to seeing the future development of this sport together with the Curling Luxembourg team".