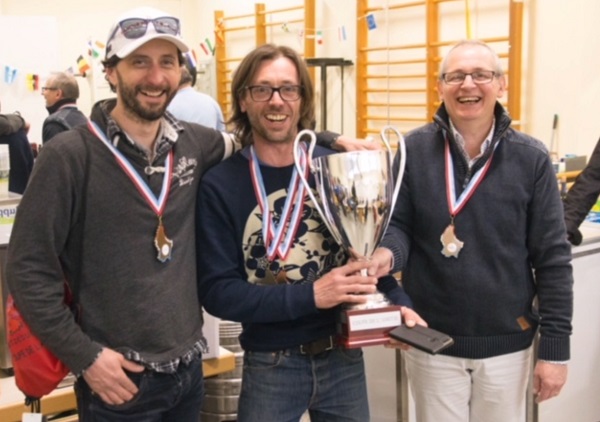 Winning team Besançon (L-R): Renaud Leroi, Simon Pagnot, Thierry Donard; Credit: Curling Luxembourg
The Besançon team have won this year's 44th curling Coupe de l'Amitié, held from 22-24 March 2019 in the Kockelscheuer ice rink in Luxembourg.
A close game, at least seven of the twelve participating teams were in the running to claim the final victory, but ultimately the Besançon team (France) won after four victories during the tournament. The team, which also won the Cup in 2017, was composed of Renaud Leroi, Thierry Donard and Simon Pagnot. They won against Charleville-Mézières opponents in the finale.
Luxembourg teams LetzCurlFirst (Kelly, Schweitzer, Benoy, Richards), the Letz Woman (Brageule, Wauters, Husi, Hansen / Benoy) and the Other Letz Guys ( Etienne / Foulds, Isenor, Giltaire, Beba, Goerens- all semi-beginners) came in 7th, 8th and 11th place in the tournament respectively.
In addition, this year marked the first time that three wheelchair players competed in Luxembourg, with the Friesland team (Netherlands) placing just behind the Other Letz Guys in 12th place.