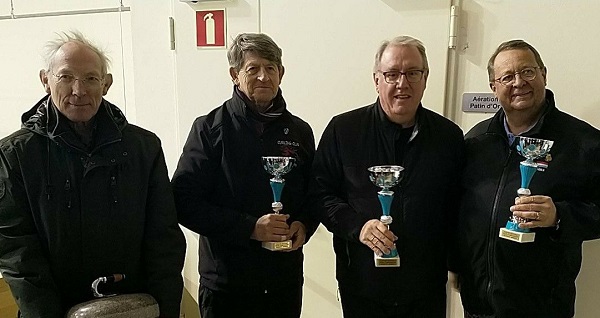 (L-R): Dan Kelly, Barry Foulds, Mike Isenor, Alex Benoy;
At the week-end, the national curling team championships for the 2018/19 season were held at the ice rink in Kockelscheuer; the winners were the team captained by Dan Kelly which also included Alex Benoy, Mike Isenor and Barry Foulds.
The event format was a round-robin tournament which saw each team play each other twice.
Dan Kelly's team won the overall prize after winning 3 games and only losing 1. Karen Wauters' team (also including Marc Husi, Aljaz Pengov and Antoine Leblais) were runners-up with 2 victories and 2 losses.
Dany Schweich's team, also with Volker Beba, Mara Kiefer, Susi Benoy, Angelina Kysil and Nico Reuland finished 3rd with 1 victory.
It was the first Championship for 5 of the 14 players; these new players played all good stones and showed great talent. Curling Luxembourg is on the way to a great future!
All the games were tight, even with the eventual Champions losing against Dany Schweich's Future Team.