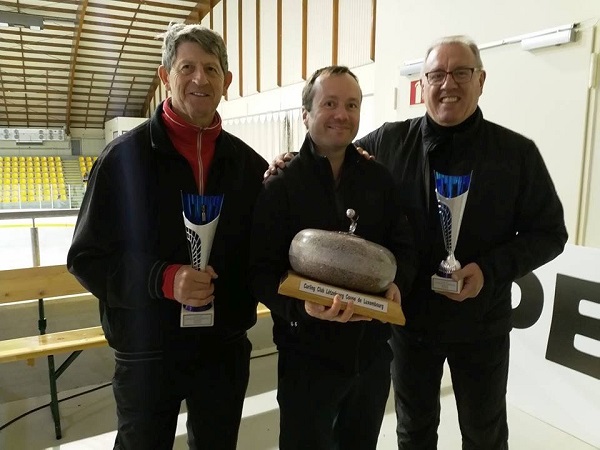 (L-R): Barry Foulds, Claude Schweitzer and Mike Isenor;
On Sunday, Curling Luxembourg held its annual start-to-the-season Coupe de Luxembourg competition at the ice rink in Kockelscheuer.
With three teams, each of three members, competing, they all played against each other, with the team of Barry Foulds, Claude Schweitzer and Mike Isenor triumphing.
They won their matches 8-6 against Dan Kelly, Marc Husi and Andreia Moreira, and 5-3 against Alex Benoy, Aljaz Pengov and Volker Beba.
In second place came Team Benoy, which defeated Team Kelly 9-2.
The matches were more tight than the results seem to show and the suspense was great until the end.
A newcomer in every team shows that Curling Luxembourg is growing and that the level of the more experienced players has improved.
All three finalist-teams performed well and had fun on the ice, even if only one team could win.