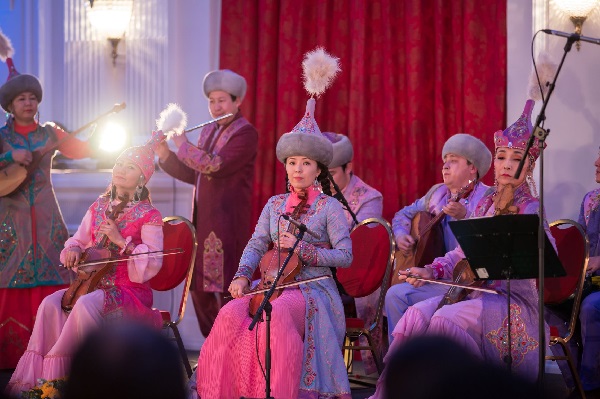 On Monday 25 March 2019, Luxembourg celebrated the Nauryz holiday for the first time.
Nauryz is a national holiday in Kazakhstan and many other Asian countries that marks the arrival of the spring equinox. The event symbolises fertility, renewal, abundance and unity. This year, the Embassy of the Republic of Kazakhstan in the Kingdom of Belgium and the Grand Duchy of Luxembourg and Eurasian Resources Group (ERG), a leading diversified natural resources producer headquartered in Luxembourg, jointly organised the first Nauryz celebration in the Grand Duchy.
The festivities, held at Cercle Cité in Luxembourg-Ville, included a concert by the Zhubanov Orchestra of Kazakh Folk Instruments and the Akku dance ensemble from Aktobe.
Ambassador of the Republic of Kazakhstan to the Kingdom of Belgium and the Grand Duchy of Luxembourg Aigul Kuspan and the CEO of ERG and Honorary Consul of the Republic of Kazakhstan in Luxembourg Benedikt Sobotka, as well as Kazakh diplomats and employees and partners of ERG, attended the event. Her Excellency Aigul Kuspan said: "This is an important milestone in the history of diplomatic relations between Kazakhstan and Luxembourg. The UNESCO World Heritage City of Luxembourg is an important political, trade and economic partner of Kazakhstan in the European Union and we are delighted that it is hosting the ancient festival of the East for the first time." Ambassador Kuspan also announced plans to continue fostering cooperation in all areas, including culture.
In his address, Benedikt Sobotka said: "We have been doing business in Kazakhstan for 25 years now, and over these years, Nauryz has become especially significant. We hope this concert will deepen our connection to Kazakh culture and enable us to experience the spirit of Nauryz celebrations first-hand. We are also positive that the concert will help strengthen the cultural ties between the two countries."
Accompanied by the Akku Ensemble, the Orchestra of Kazakh Folk Instruments performed well-known pieces by Kazakh composers Kurmangazy, Dauletkerey, Nurgissa Tlendiyev, as well as compositions by Mozart and Eduardo di Capua. The performance was well received by the audience. Prior to their arrival in Luxembourg, the orchestra and the ensemble from Aktobe delivered a concert in Brussels.