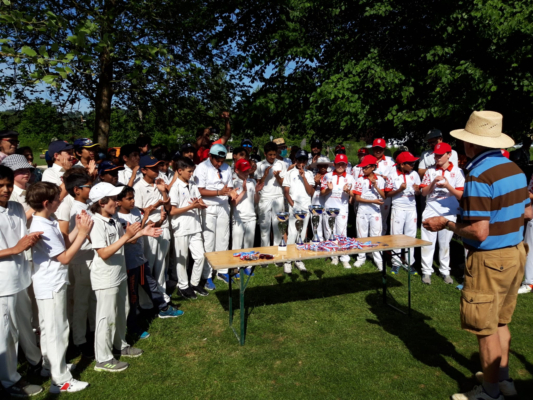 Credit: LCF
Luxembourg hosted the International Junior Under 13 (U13) cricket team from Belgium and both U13 and U11 teams from Switzerland for the Tri-Nation U13 Tournament 2022, organised under the ageis of the Luxembourg Cricket Federation (LCF) at the Pierre Werner cricket ground in Walferdange over the weekend.
On Saturday 14 May 2022, each team played the other three teams in a competitive 15 over match format. The Luxembourg U13 team secured a win against Switzerland's U11 national team but narrowly lost the subsequent two fixtures.
Despite Switzerland finishing 1st in the group matches, on Sunday 15 May 2022, Belgium U13 defeated the Swiss U13 national team in the final, managing to defend a total of 107 runs.
Speaking to Chronicle.lu, Stephen Evans, President of LCF, said: "We have had a junior programme for well over 20 years, but we have never seen success at this level. The number of good quality players coming through the system is super encouraging". He continued: "It is heartening to see our kids competing so strongly against countries which have many more playing resources than us. They are a credit to the coaching team that have helped to bring them to this level".
Harpal Singh Virdee, LCF Head of Juniors and a member of the coaching team, commented: "I am particularly proud of the efforts involved from all parties, including the LCF, umpires, Optimists Cricket Club (for their fantastic ground facilities) and of course the participation of 50 children across four international squads with immense potential, who travelled from afar".