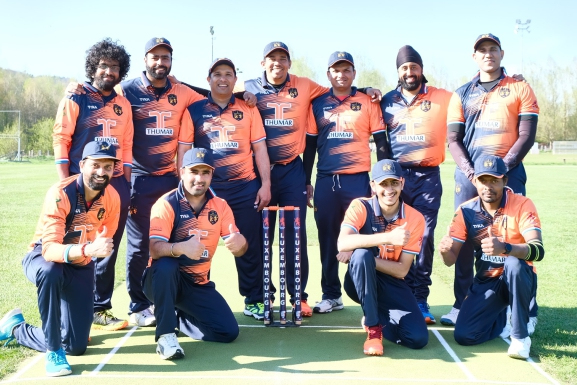 Credit: Star Cricket Club
The Star Cricket Club (CC) is currently representing Luxembourg in the European Cricket League (ECL22) at the Cartama Oval in Malaga, Spain, with their participation in Group A during the week commencing Monday 7 February 2022.
Star CC travelled last Saturday with thirteen players, as well as a coach, manager and a Luxembourg Cricket Federation (LCF) representative. The qualified to represent the Grand Duchy in this (ELC22) tournament by winning the Luxembourg Cricket Outdoor League 2021 (Pete Mitchell Cup).
The ELC22 tournament is being played in a T10 formal, also known as Ten10, with two teams playing single innings each, restricted to a maximum of ten overs (60 balls) per side and the game lasting approximately 90 minutes. 30 teams from 29 countries in Europe have qualified for ECL2022 (the Netherlands has two teams). Each representative team is the club champion in their respective countries. In Group A, Star CC is grouped with five other teams, one each from Finland, France, Austria, Denmark and England.
In their first match on Monday, Star CC lost to the Austrian Cricket Tigers who reached 161/3 in their 10 overs; Luxembourg's representatives could only reach 59 runs for the loss of 4 wickets in their allotted 10 overs, with Jatin Madan top-scoring for Star CC with 18 runs; Rutvij Thumar had the best bowling figures with 1 wicket for 3 runs.
Later on Monday, Star CC faced the Helsinki Titans and were first to bat, reaching 93/8 in their 10 overs. The Finnish champions reached 99 runs with a six off the 3rd ball in their 8th over. Jatin Madan again had the best batting figures for Star CC with 40 runs; Ansh Trivedi had the best bowling figures with 1 wickets for 18 runs.
On Tuesday, Star CC were up against England's Tunbridge Wells and were set 111 to win, but fell agonisingly short with a score of 101 runs with the loss of 3 wickets. Shiv Karan Gill top-scored for Star CC with the bat with 48 runs, with Jatin Madan having the best bowling figures with 2 wickets for 14 runs.
On Wednesday, Dreux (France) were Star CC's opponents who restricted the Luxembourg team to 64 runs for the loss of 5 wickets after reaching 154 themselves, having batted first. Jatin Madan top-scored for Star CC with 17 runs and Harpal Singh had the best bowling figures of 2 wickets for 19 runs.
However, Star CC recovered from this heavy defeat by being pipped by Svanholm of Denmark, their opponents scoring 81 runs for the loss of 3 wickets after Starr CC recorded 80 runs off their 60 balls (10 overs). Shiv Karan Gill was Star CC's top scorer with the bat, with 23 runs.
On Thursday 20 February 2022, Star CC played their first eliminator match (between 5th and 6th places after the round-robin matches) and recorded their first win by overcoming the Helsinki Titans who had beaten them well on Monday. Both teams finished on 118 runs, with Star CC losing 5 wickets and their opponents losing 8 wickets; however, Star CC stuck with the Golden Ball to secure their first win of the tournament.
Later on Thursday, Star CC fell to their heaviest defeat of the week in their 2nd eliminator match, scoring just 44 runs and losing all 10 wickets in just 8.3 overs, while Denmark's Svanholm reached 46 runs with losing a wicket in just 4.2 overs. Jatin Madan top-scored with the bat with 49 runs and was also the pick of the bowlers, getting 3 wickets for 20 runs.
Star CC therefore finished 5th out of 6 teams in Group A of the European Cricket League 2022, with Svanholm going on to play the 3rd placed team after the round-robin format.
Star CC was established in 1997 and is a founder member of the LCF league. Star CC currently has over 70 members, including women and juniors. The members are from many different nationalities, mainly from Asia and Europe. Star CC has two teams in outdoor league and three teams in indoor league of men's cricket. In outdoors, both teams (Star CC and Star Challengers) will play in division 1 this season, whilst in the indoor league, Star CC plays in division 1 and the two other teams (Star Challengers and CSK) play in division 2.