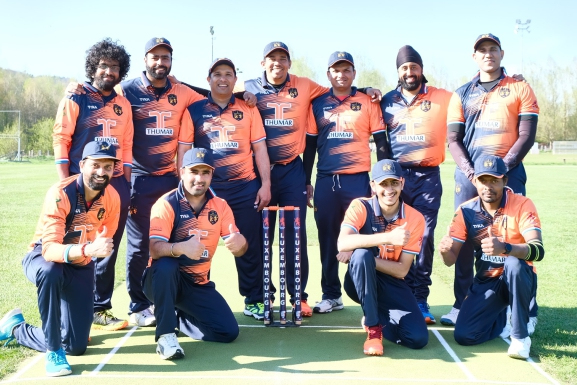 Credit: Star Cricket Club
Star Cricket Club (CC) will represent Luxembourg in the upcoming European Cricket League (ECL22) in Cartama Oval in Malaga, Spain, from Monday 7 February to Friday 18 March 2022.
Chronicle.lu got the opportunity to speak with Star CC, before they leave for the tournament on Saturday 5 February 2022 with thirteen players, as well as a coach, manager and a Luxembourg Cricket Federation (LCF) representative.
Chronicle.lu: Congratulations on Star CC winning the Luxembourg Cricket Outdoor League 2021 which resulted in qualification for the ECL22 which is starting in Malaga next week. Please tell us about your journey to qualifying.
Star CC: Thank you. The Luxembourg Cricket Federation decided to send the Pete Mitchell Cup winner to ECL22 tournament as the champion club from Luxembourg. The Pete Mitchell Cup is an outdoor league tournament played amongst the five division 1 teams in Luxembourg. It is T10 cricket, also known as Ten10, with two teams playing single innings each, restricted to a maximum of ten overs (60 legal balls) per side and the game lasting approximately 90 minutes. The Pete Mitchell Cup is very competitive and last year with the winner going to represent Luxembourg in ECL, the stakes were high. Played at the Pierre Werner Oval in Walferdange, all teams did their best to win this tournament, as we did, and eventually, we won the Cup tournament.
Chronicle.lu: For those who may not be aware of the cricket landscape in the Grand Duchy, how many cricket teams are there, where do they play, when is the main season and what competitions are organised?
Star CC: Cricket has been played in Luxembourg since the 1970s with last four to five years witnessing immense interset and multi-fold increase in the number of players and teams. There are a total of ten men's teams participating in Luxembourg outdoor- and eleven in indoor-leagues. The teams are divided in to two divisions: the top five teams play each other in division 1 with relegation and promotion for one team in each division. The outdoor league games are played at the grounds of Optimists Cricket Club (OCC) in Walferdange. Apart from the league games, there are cup tournaments organised each outdoor season: Pete Mitchell Cup for division 1 teams; Robert Schuman Cup for division 2, as well as mixed teams. The Robert Schuman Cup is played at Evrange cricket ground, about 300 metres across the border in France and are more in the spirit of a community and social tournament. The outdoor season is typically played from April till September and the indoor season between October and March. All the indoor league matches are played at the Michel Lucius School gym.
Apart from these competitions organised by the LCF, the OCC also participates in the Belgian Cricket league with two teams. Players for these two teams are selected from all LCF associated teams based on their performance and abilities. More details on the LCF games and tournament are available at https://luxembourgcricket.org/
Even though the majority of cricket in Luxembourg is being played by men, the landscape is changing with more women and juniors playing regularly. Star Cricket Academy trains and holds indoor practice and matches for women in Luxembourg with growing participation. These sessions are held at Schuttrange on Sundays and women of all levels of cricketing ability are welcome to join these sessions which are provided free of cost to participants. The "les 3 frontieres cricket club" is a women's cricket club based in Evrange which has since 2021 also become a founding member of Belgian women's cricket league.
There are now over 80 junior players being trained by LCF each Sunday throughout the year and a competitive juniors indoor tournament has started this year in Luxembourg.
Chronicle.lu: Please introduce Star CC to our readers.
Star CC: Star CC was established in 1997 and is a founder member of the LCF league. Star CC currently has over 70 members, including women and juniors. The members are from many different nationalities, mainly from Asia and Europe. Star CC has two teams in outdoor league and three teams in indoor league of men's cricket. In outdoors, both teams (Star CC and Star Challengers) will play in division 1 this season, whilst in the indoor league, Star CC plays in division 1 and the two other teams (Star Challengers and CSK) play in division 2.
Chronicle.lu: Star CC is a member of the Luxembourg Cricket Federation: what is the federation's role in organising competitive matches, including this tournament?
Star CC: All the competitive matches, be it league or cup tournaments, are organised by the LCF in Luxembourg. Apart from the domestic competitive matches, LCF is also responsible for Luxembourg National Cricket Team which currently holds a respectable place of 52 in world cricket rankings. The national team will be participating in the ICC World Cup qualifiers in Finland this July as well.
Last season, five Star CC team members were part of of the National team, although not all were playing at the same time in the same tournament.
Chronicle.lu: How has the pandemic affected Star CC in its planning for this tournament?
Star CC: Luckily we have not been much affected by the pandemic for this tournament. We knew in September 2021 that we will be participating in ECL22 in Malaga and since the outdoor season was over by then, we have trained and prepared ourselves at the Schuttrange indoor hall.
Chronicle.lu: In 2022, in what other competitions will Star CC compete?
Star CC: Star CC will compete in all the LCF organised league and cup tournaments. Apart from that, we will tour some of the neighbouring countries' clubs during the summer months like we did last year. We also plan to put together one women's team in a competitive women's tournament organised by LCF.
Chronicle.lu: Where and how regularly you practice and is it open to anyone interested to join?
Star CC: We train once a week in addition to playing competitive matches. During the indoor season, we train on Sunday mornings at Schuttrange where we are quite well equipped with special indoor cricket mats, bowling machines, etc. During the outdoor season, we usually have our nets slot on Saturday morning at the OCC facilities in Walferdange. Of course, anyone who is interested to join can contact us through https://starcricket.cc/ and is welcome to join us at our training sessions.
Chronicle.lu: What standard teams have qualified for the European Cricket League 2022?
Star CC: There are 30 teams from 29 countries in Europe that have qualified for ECL2022 (the Netherlands has two teams). Each representative team is the club champion in their respective countries, so the standard of cricket will be quite high.
Chronicle.lu: What format is the European Cricket League 2022 in Malaga and which other teams / countries will you be playing against?
Star CC: We will be playing T10 format, which is a fast paced and action packed version of cricket. Each week, there will be a group of six teams in the group stage with the winner of each group (five in total) playing in the final week, which eventually decides the winner of the tournament.
We will be playing in Group A with five other teams, one each from Finland, France, Austria, Denmark and England. All matches will be broadcast on the European Cricket Network (ECN) youtube channel. The fixtures are available at https://www.ecn.cricket/european-cricket-league/scores-fixtures
Chronicle.lu: What are your expectations concerning the European Cricket League 2022 in Malaga?
Star CC: We have limited experience with T10 cricket but we have trained well and believe we will do well in this tournament. We will play competitive cricket and give our best in each and every match we play. We do not have a fixed target, which takes off the pressure, and helps us as a team to focus on each game and go as far as possible in the tournament.
Chronicle.lu: Thank you and we wish you all a good tournament ahead.
Star CC: Thank you. We look forward to all the support and playing our best.