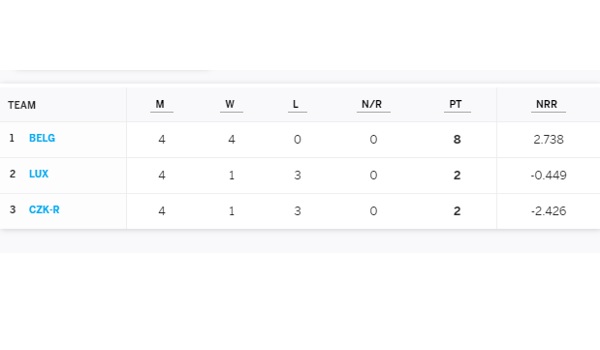 Last week-end, from Friday 28 to Sunday 30 August 2020, Luxembourg hosted its first international competition at the Pierre Werner cricket ground in Walferdange, with Belgium emerging as the winners with four victories from 4 matches.
Luxembourg hosted Belgium and Czechia (formerly the Czech the Republic) for the 20-overs-a-side triangular series, entitled the 2020 Luxembourg T20I Trophy, which included the first official T20I matches to be played in Luxembourg since the International Cricket Council (ICC) announced that all matches played between Associate Members from 1 January 2019 would be eligible for T20I status.
The series had been organised to provide players with some international cricket after the postponement of the 2019 T20 World Cup Europe Qualifier.
Luxembourg got off to a great start with a 63-run victory (DLS method) over Czechia on Friday afternoon. Batting first, Luxembourg reached 164/7 in the allotted 20 overs, with Joost Mees top scoring with 40 runs and Arun Ashokan taking 1 wicket for 12 runs from 2 overs. Czechia reached 89/9 from 16.5 overs when rain stopped play, with Honey Gori top scoring with 38 runs and Marcus Cope with the best bowling figures of 3 for 16 runs from 4 overs.
Saturday saw three games, with Czechia overturning the previous afternoon's defeat to Luxembourg. Luxembourg reached 112 from 18.5 overs, with Czechia winning by 5 wickets with a score of 115/5 after 18.5 overs. For Luxembourg, James Barker top-scored with 27 runs and Vikram Vijh took 2 wickets for 24 runs off 3.5 overs.
Next up saw Belgium (165/8 in 20 overs) defeating Luxembourg (128/8 from 20 overs) by 37 runs. For Luxembourg, Tony Whiteman top scored with 36 runs and William cope had the best bowling figures of 2 wickets for the loss of 22 runs from 4 overs.
Last up on Saturday saw Belgium (197/6 from 20 overs) defeat Czechia (151/8 from 20 overs) by 46 runs.
On Sunday, Belgium (161/6 from 20 overs) again defeated Czechia (74/7 from 20 overs), this time by 87 runs.
The final match of the series saw Belgium (184/8 off 20 overs) defeat Luxembourg (135/3 off 20 overs) by 49 runs. For Luxembourg, Joost Mees was top scorer with 67no, and William Cope was best of the bowlers with 4 wickets for 18 runs off 4 overs.
Belgium ended 1st with 4 victories (8pts), again one each for Luxembourg (2nd, 2 pts) and Czechia (3rd, 2pts)
Luxembourg: Joost Mees (c) (wk), James Barker, Scott Browne, Marcus Cope, William Cope, Mohit Dixit, Reinhardt Heyns, Saransh Kushretha, Pankaj Malav, Advyth Manepalli (wk), Ankush Nanda, Shameek Vats, Vikram Vijh, Tony Whiteman.
Belgium: Shaheryar Butt (c), Khalid Ahmadi, Saqlain Ali, Murid Ekrami, Sazzad Hosen, Syed Jamil (wk), Mamoon Latif, Nemish Mehta (vc), Sherul Mehta (wk), Muhammad Muneeb, Ashiqullah Said, Gurnam Singh, Wahidullah Usmani, Saber Zakhil.
Czechia: Edward Knowles (c) (wk), Hilal Ahmad, Naveed Ahmed, Arun Ashokan, Sabawoon Davizi, Abul Farhad, Shripal Gajjar (wk), Kyle Gilham, Honey Gori, Siddarth Goud, Kushalkumar Mendon, Sumit Pokhriyal, Shoumyadeep Rakshit, Surya Rengarajan, Sudesh Wickramasekara.