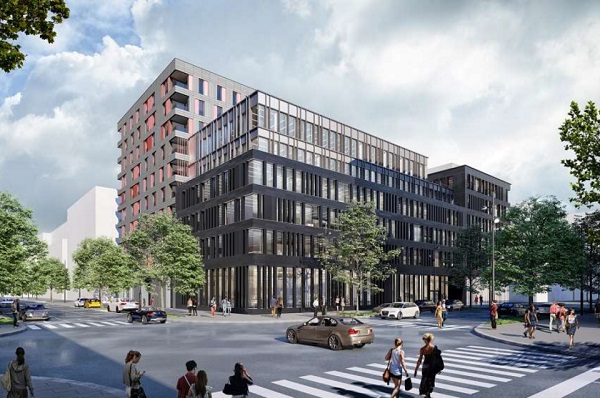 Credit: STATEC
On Friday 15 September 2023, due to the completion of its structural work, STATEC invited Luxembourg's Prime Minister, Xavier Bettel, the Minister of Health, Paulette Lenert, and the Minister of the Economy, Franz Fayot, to discover the Twist building in Esch-Belval.
The Twist building will house STATEC, which is moving for the first time into its own building, from June 2024. The same building will also house the Gesondheets- a Beweegungszentrum Belval, as well as the National Commission for Data Protection (CNPD) services.
The Twist building is a new complex of approximately 23,100 m2 arranged in the form of islands with green spaces, an interior courtyard and roof gardens. The complex will house the Gesondheets-a Beweegungszentrum Belval (Health and Exercise Centre Belval) on 577 m2, an office building of 8,895 m2 over five floors on one side and a residential building with 36 apartments over nine floors on the other. Located at 12 Boulevard du Jazz, on the former rehabilitated industrial wasteland of the Square Mile project in the heart of Belval, the Twist building fits with the philosophy of the district which integrates work, teaching, research, housing, leisure and daily life, according to STATEC.
STATEC also noted that the building was designed to take into account the well-being of its future residents. The building is certified according to the "WELL" standard, the first global construction standard based exclusively on health and well-being. The Twist building is the first building to date seeking WELL PLATINIUM certification in Luxembourg.
Certified by the BREEAM standard, the first environmental assessment method and building assessment system in the world, the construction of the building is based around low-impact design, adaptation to climate change, a reduction in carbon emissions, ecological valorisation and the protection of biodiversity. Light and natural materials are an integral part of the architectural project, including bay windows, outdoor spaces and the use of natural materials such as terracotta and wood.
The overall cost of the project is approximately €62.6 million.