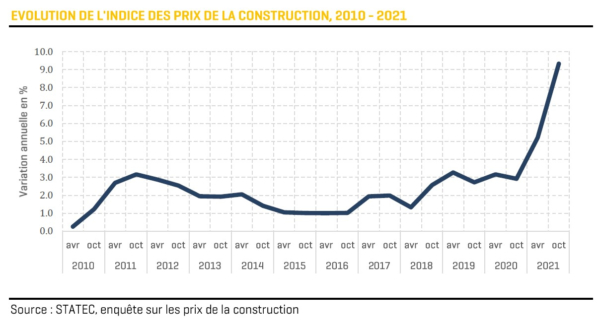 Credit: STATEC
On Thursday 13 January 2022, Luxembourg's national statistics agency STATEC reported that residential construction prices were up 9.4% in October 2021 compared to one year earlier.
The annual rate of change grew steadily and reached the highest recorded since October 1980.
According to STATEC, this exceptional rise is largely due to a significant increase in the prices of many construction materials and the indexation of wages in October 2021.
In particular, the price of iron reinforcements, various sealants and insulation products have risen considerably.
The price of wood has also increased sharply and, to a lesser extent, that of zinc and various insulation and waterproofing products required for roofing were up 7.9%.
Prices in "finishing" jumped 5.2% in October 2021.
In retail construction, like the interior carpentry of doors, wooden stairs and cupboards, among others, were also heavily influenced by the rise in the price of wood which companies now pass on entirely to project owners.
The construction price index measures changes in the prices of services provided in residential construction, excluding the land. It takes into account the changes in the prices of materials and labour and also the changes in productivity and business margins.
The indices and rates of change are calculated every six months for construction as a whole but also for different trades and groups of services.