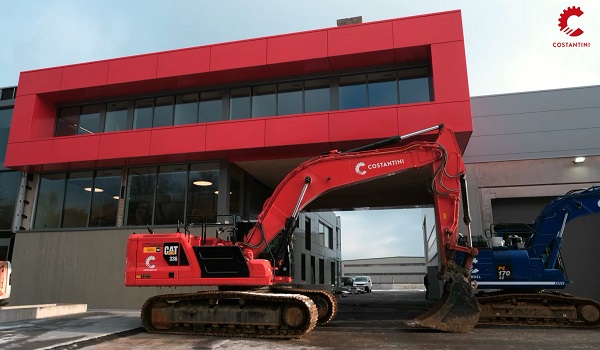 New HQ in Niederkorn; Credit: Costantini Group
The Costantini group, a civil engineering expert in Luxembourg, has left its historic birthplace of Schifflange to settle in its new headquarters in Niederkorn in Differdange.
After 45 years of existence, this major player in building, public works and demolition is acquiring a new residence better suited to its needs and development.
"Our move to the municipality of Differdange marks an important turning point in our development," commented Christophe Dardenne, one of the managing directors of the Costantini group. "Our company has indeed experienced significant growth in recent years and our historic headquarters in Schifflange no longer allowed us to meet our needs. We have therefore invested in a brand new tool, which allows us to better envision the future".
The group is bringing together under a single identity all of its activities and subsidiaries active in construction, demolition, general electricity and property development. Costantini intends to continue to grow, by joining forces and continuing to invest in its teams.
This new head office, the development of which has mobilised all the know-how of the group's teams, better corresponds to the current needs and ambitions of Costantini, a company active in Luxembourg and beyond. Over the past ten years, Costantini's development has accelerated, as evidenced by the geographic extension of activity in the Grand Est and Paris regions of France as well as the diversification of activities with the integration of Xardel Démolition in 2011 and the creation of Co-Développement in 2014. In 2020, Costantini acquired JMC International, a workshop specialising in the mechanics of construction machinery, located in Athus in Belgium.
Christophe Zauli explained: "With more than 600 employees, our group is positioned as a multidisciplinary player in the construction sector, a trusted partner of many major development projects".
Since 2008, Costantini's management committee has been composed of four of its shareholders: Christophe Dardenne, Philippe Gass, Olivier Higuet and Christophe Zauli. Renato Costantini, historical shareholder, chairs the company's board of directors. Jordan Brun, Jérôme Cottet Dumoulin and David Hallot complete the Group's shareholding structure.
Moving to its new building is also expected to facilitate collaboration and exchanges between the departments, services and entities of the company, in order to increase efficiency. Olivier Higuet explained: "This new tool allows us to better join forces in order to serve our markets more effectively. Our people demonstrate an incredible ability to adapt to continue work and maintain operations. We wanted to underline this dynamic and manage to maintain it over time. Our group has grown a lot in a short period of time, today it is essential to consolidate our strengths to continue to grow".
To mark the move, the Costantini group has changed its identity, endowing each of its companies with a common C-shaped logo, which Christophe Dardenne described as "a symbol of Costantini's history, of the convergence of our activities and businesses, of our unity". He added: "This 'C' also reflects trust, the cement of the relationships that the group seeks to maintain with its employees, partners and customers in order to build the future".
Besides the new logo, the companies Costantini, Xardel and Co-Développement and JMC International will keep their name and distinctive colour.