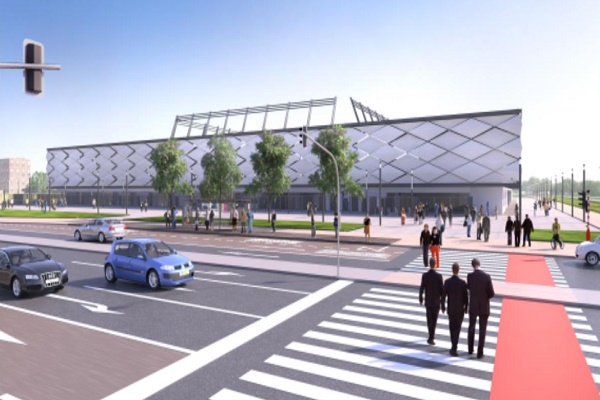 Credit: PGNL
This Wednesday 6 June 2018, the College of the mayors and aldermen of the Ville de Luxembourg (VdL), represented by Mayor Lydie Polfer and Simone Beissel, and Minister of Sports Romain Schneider visited the site of the new national stadium.
Built on a site located between the Cloche d'Or and Kockelscheuer, the project of the new football and rugby stadium will feature the construction of an area with 9,385 covered seats covered for spectators, VIP areas, food kiosks, a business club with kitchen, rooms and premises for the press, cloakrooms and all its auxiliary functions. Most of these functional premises are grouped together in a three-storey building on the stadium grounds next to the Kockelscheuer boulevard.
The site will also include a parking area/multifunctional square on the East side of stadium.
The stadium is being built in accordance with current standards, especially the FIFA/UEFA (stadium category 4) and World Rugby standards.
Designed by the architect group Gerkan Marg + Partner and the architectural firm BENG, construction on the site officially began on 6 September 2017. The works are scheduled to finish by the end of 2019, with 65% of work already carried out. Meanwhile, 70% of the actual structural work has been completed and the rest is planned for January 2019.
The budget estimate for the final detailed project for the construction of the new national stadium is €60,358,250.00. The project is 70% subsidised by the Ministry of Sports, capped at €40,000,000.00. The budget estimate for the development of the multi-functional parking area is €791,826.75 (100% financed by the VdL).