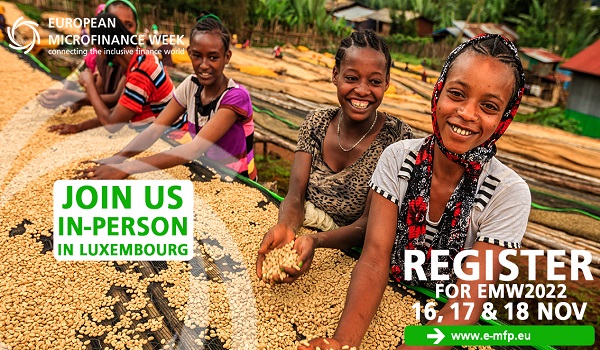 European Microfinance Week (EMW), organised by Luxembourg-based European Microfinance Platform (e-MFP), will return in person from 16 to 18 November 2022; EMW 2022 will take place at Neumünster Abbey (neimënster) in Luxembourg-Grund.
After two virtual editions, EMW participants will once again meet face-to-face in Luxembourg. For those who cannot travel, however, a virtual hybrid experience will make many of the sessions available online.
EMW is one of the highlights of Luxembourg's financial inclusion calendar and a unique meeting point for microfinance and financial inclusion professionals from around the world. EMW brings together all sectors of the inclusive finance industry including consultants and support service providers, investors, multilateral and national development agencies, non-governmental organisations and researchers.
This year's topics include responsible digital financial services, sustainable finance data, improving access to climate finance, the financial inclusion of refugees, the role of green inclusive finance in women's empowerment, inclusive insurance and strengthening agricultural value chains, among others.
Single day passes cost €200 (online experience) or €350 (full experience); e-MFP members can attend the full three-day event for the cost of €525, whilst non-members can get the full experience for €625.
Further details are available at: https://emw2022.eu/e/c960a670-2ce9-11ed-afcb-79a136ae0d1a.